"'No wrong door' for the curious": embracing a week of entrepreneurial fervour at U of T

The U of T Entrepreneurship Week will be held from March 6 to 9, 2023, with over 15 events across U of T's three campuses, and everyone from first-year undergraduates to external stakeholders are welcome to attend.
Jon French, director of University of Toronto Entrepreneurship (UTE), believes U of T's annual Entrepreneurship Week has something to offer everyone: from students, alumni, faculty, and staff—who may wish to learn about innovation and start-up activity—to investors, customers, business leaders, and the media, who want information about the companies being showcased.
In the past 10 years, more than 600 U of T start-ups have raised over $2.5 billion in funding and created 9,000 jobs in different industries and sectors. The UTE has over 10 accelerators across all three U of T campuses that support over 500 teams and deliver programming through each year. Two weeks ago, U of T was recognized as one of the Top 5 University Business Incubators in the world by UBI Global's survey.
For students, regardless of their field of study and how little entrepreneurial experience they may have, the program at Entrepreneurship Week provides practical advice on how to turn an idea into a real company, and introduces them to U of T's resources and support for entrepreneurs.
Entrepreneurship Week returns for its seventh year—the first year back in-person since the Covid-19 pandemic for many events. "While virtual allowed us to safely connect and network with supporters from around the world, nothing beats the serendipitous collisions that occur face to face," says French. "I can't wait to see people 'in real life,' but we also took lessons from the pandemic regarding program delivery, which is why many events, including the Speaker Series, also have virtual registration options and will be livestreamed."
In-person Entrepreneurship Week events will take place across all three U of T campuses, along with their virtual counterparts.
"We anticipate that themes such as mental wellness for founders, [equity, diversity, and inclusion] in entrepreneurship, [raising venture capital to fund your company, intellectual property, music and entrepreneurship, as well as sustainability] to be popular and woven throughout the week's festivities," says French. "There are incredible events scheduled on and around March 8 to celebrate International Women's Day that will also be very popular, including the ICUBE accelerator at UTM's annual Pitch With a Twist, where women-led start-ups will present their companies to experienced judges for prize money and accolades."
ICUBE is the campus accelerator at the University of Toronto Mississauga (UTM), offering a safe and welcoming workspace alongside programs like the RedBird Circle and Ideation Lab to not only entrepreneurs from UTM, but the entire Peel Region. "They have always been a leader in the UTE community, especially with regards to supporting under-represented communities and equity deserving groups," contends French. "We are thrilled to have Kayla Sousa, ICUBE program lead[,] as our emcee for the Desjardins Startup Prize, featuring 10 start-ups from across the tri-campus, including ICUBE/UTM venture and Inwit, pitching for over $100 thousand in prizes on March 9!"
"Pitch With a Twist [seeks] to support businesses that have at least one woman-identified founder or co-founder and that are trying to make meaningful social change," says Kayla Sousa, programs lead at ICUBE. "We're basically going to have two categories: an early-stage category for folks who are pre-launched[,] as in they may just have an idea for a start-up and haven't even incorporated yet, and a later-stage category for folks who are further along in their journey, still early, but they've entered the market by selling their product or service a little bit more."
Alongside Pitch With a Twist, another highlight of Entrepreneurship Week is the True Blue Expo—a trade show featuring 40 of the most innovative U of T tri-campus start-ups, both early and well-funded. The expo will take place on March 9, 2023, at the MaRS Discovery District. "Spread across the entire MaRS complex will be start-ups with robotic arms to create art, companies focused on clean tech and the environment, many health-focused ventures and even one from UTM focused on sustainable catering," explains French. "The True Blue Expo will also feature representation from our 10+ campus accelerators, mission-aligned community partners, and other parts of the university such as alumni relations."

Interested students can register to attend the True Blue Impact Day at Eventbrite.ca. For more information regarding the full 2023 U of T Entrepreneurship Week schedule, visit entrepreneurs.utoronto.ca.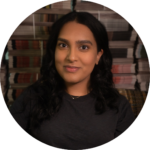 Sports & Health Editor (Volume 49)| sports@themedium.ca — Alisa is a third-year student completing a major in Professional Writing and Communication with a double minor in Political Science and Cinema Studies. She served as Editor-in-Chief of Mindwaves Volume 15 and Compass Volume 9 and was a recipient of the Harold Sonny Ladoo Book Prize for Creative Writing at UTM. Her personal essay, "In Pieces," appears in the summer 2020 issue of The Puritan. In 2022, she published her first poetry chapbook, Post-Funeral Dance, with Anstruther Press and wrote for The Newcomer as a journalist. When Alisa isn't writing, she's probably reading historical nonfiction, ugly-crying over a sad K-drama, or dreaming of places far, far away.