U of T's Inlight Initiative hosts webinar on equitable student mental health research

Inclusivity and equity in research require more than simply including people; they require the reconceptualization of existing views based on perspectives that were not previously considered.
On February 28, 2023, U of T's Inlight, a student mental health research initiative, will host the fifth session of their Global Speaker Series—which, according to Inlight's website, is a series of events seeking to "[profile] the latest research in student mental health and wellbeing from around the world." The organization that would later become Inlight was formed in 2020 in response to a U of T report that recommended the university use its "expertise in mental health research" to create a research initiative focusing on student mental health. The organization includes committees of students, academics, and clinical professionals.
February 2023's Global Speaker Series event will be held over Zoom and will focus on exploring equity, diversity, and inclusivity in student mental health research. The University of Calgary's Kome Odoko and U of T's Jenny Hui will be speaking at the event about student mental health, discussing research findings, and answering questions about equitable student mental health research. Camisha Sibblis, assistant professor of Criminology, Law and Society at U of T and associate director of Education and Training at Inlight, will be moderating the talk.
"The spectrum of mental health issues is so vast and complex, especially post-Covid," says Professor Sibblis in conversation with The Medium. "The event gives students a place to not only hear about research but also ask questions and talk about what's taxing them."
Professor Sibblis emphasizes the value of the Global Speaker Series as a place for students to connect with mental health practitioners and the global mental health research community. Previous guests at the Global Speaker Series include experts from Australia, Taiwan, and the United Kingdom.
According to Professor Sibblis, current research on student mental health focuses on identifying the causes of mental health issues, exploring risk factors, and developing programs relevant to what students are experiencing. She contends that hearing from students at events like the Global Speaker Series is critical to the research process, stating: "Equitable mental health means engaging students as experts, participants, and collaborators on their own experiences."
Professor Sibblis shares that her own experiences with mental health issues as a student at U of T fueled her aspiration to tackle issues of equity, diversity, and inclusivity in student mental health research—in her professional career, and as a member of the Inlight Initiative.
"My role is a direct response to issues of equity within the mental health space," says Professor Sibblis. She oversees research to ensure that it upholds the initiative's equity standards.
Professor Sibblis believes that a more equitable future for mental health involves the restructuring of the current Eurocentric approach to mental health research. "I've always taken issue with the 'inclusivity' part of the equity, diversity, inclusivity trio," she explains. "It implies that we can fix problems by just 'including' people, or by just adding things to the periphery of Eurocentric views. Real 'equity' would mean taking down what we currently have and rebuilding in accordance with various perspectives that weren't considered before."
Professor Sibblis adds that while the global mental health community is starting to see how disconnected it has been, there is still a lot of room for progress. She hopes that events like the Global Speaker Series encourage students to get involved with Inlight and the topic of mental health. Likewise, Professor Sibblis invites students to apply to be part of Inlight's advisory committee, for their various grants, and to reach out on social media.
"I really want to encourage students to participate," says Professor Sibblis. "Come out in critical numbers, talk to us, and change how Inlight sees you. The university's language is research, so if you can make yourself heard in the research, you can drive real change."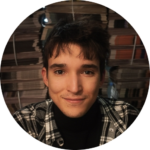 Associate News Editor (Volume 49) — Mihail graduated from UTM in April 2022 with majors in Professional Writing and Communications Technologies. He's an aspiring journalist who loves researching, interviewing, and getting to the bottom of a killer story. He started working as an Associate News Editor with The Medium in October 2022 and hopes to share many exciting stories with readers. In his free time, you can find Mihail avoiding suspicious cliffs along the Bruce Trail, pretending to read literary classics, or losing at fighting games.