Back-to-Business: Graduating this spring? Welcome to the recession
As another academic semester comes to a close this April, many students across Canada are moving on from university life and starting their professional careers. However, economic recession and inflation have left the future of Canada's job market uncertain.
Economists are forecasting that Canada is heading into a recession. This means that employers will be forced to cut jobs to maintain their bottom line. It also means that fewer goods will be produced, and less money will change hands. For recent graduates, a recession affects more than just employment—it also means steeper prices on necessities like food, shelter, transportation, and other services. Such issues serve as obstacles for recent graduates as they transition into independent lives.
Late 2022 reports predicted a severe hit to the Canadian economy, citing post-Covid-19 restructuring, surging inflation, and economic trouble in the US—Canada's largest trading partner—as the reasons. A report published in February 2023 by the Ontario Living Wage Network calculated the necessary living wage in the Greater Toronto Area (GTA) as $23.15 an hour for 2022. This represents between a 4.8 to 30.1 per cent increase from 2021, dependent on the GTA municipality.
But in a March 2023 release, Deloitte, a professional services firm, contended that Canada could get off easy, predicting the country's gross domestic product to drop by 0.5 per cent this year before jumping back up two per cent in 2024. According to Deloitte, cooling inflation rates and the rollout of welfare measures—like Alberta's affordability action plan—across Canada have improved the country's economic forecast. The firm adds that while recent international scares like the Silicon Valley Bank collapse reduced public confidence in the Western economy, these incidents have had minimal impact on Canada's economic recovery.
But even a minor recession can have long-lasting effects on people just starting their careers. A 2019 Stanford study found that people who leave school for work during an economic slump suffer higher midlife death rates and lower socioeconomic standing decades after graduating.
According to a CBC article, despite forecasts of a nationwide recession, Ontario is currently experiencing a record number of job openings relative to its population, with the sales and service sectors experiencing an especially high labour shortage. Regardless, vacancies are down from their peak in May 2022 and the province's unemployment rate has stayed low at five per cent. While rising costs remain problematic, graduates looking to enter the workforce are facing a relatively favourable labour market. Employers are struggling to find workers, with some experts attributing this to labour shortage. Others, however, state that employers have been unwilling to adjust wages to accommodate the soaring costs of living or introduce flexible working conditions, resulting in their predicament.
In an advice column posted on The Muse, a job search website, Ilana Gordon, who graduated during the 2009 economic recession, stresses the importance of long-term plans. "Your career might not proceed on the exact timeline you imagined, so try not to tie your expectations and feelings of self-worth to strict milestones," she writes. "Free yourself from the idea you need to find something permanent fast, and devote the time and mental energy you save to figuring out what you want to do in the long term and how to get there, even if it takes a little longer."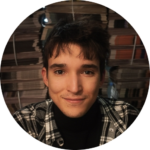 Associate News Editor (Volume 49) — Mihail graduated from UTM in April 2022 with majors in Professional Writing and Communications Technologies. He's an aspiring journalist who loves researching, interviewing, and getting to the bottom of a killer story. He started working as an Associate News Editor with The Medium in October 2022 and hopes to share many exciting stories with readers. In his free time, you can find Mihail avoiding suspicious cliffs along the Bruce Trail, pretending to read literary classics, or losing at fighting games.