How UTM's Ideation Lab provides funding, mentorship, and educational resources to business aspirants

Kayla Sousa, ICUBE Programs Lead, discusses the mission behind the ideation lab and social barriers to entrepreneurship.
In 2015, U of T's first and only social impact accelerator—a program that helps develop start-ups—opened its doors at the University of Toronto Mississauga (UTM). ICUBE is currently operated by a small staff who aim to provide space and education to people with business ideas.
Former freelance psychometrist, Kayla Sousa, is the programs lead of ICUBE at UTM's Institute for Management & Innovation. "While there's nothing wrong with choosing to work in the gig economy, as I did," Sousa says, "a place like ICUBE could've helped me grow things to another level." The gig economy refers to a labour market comprised mainly of temporary, contractual, and freelance positions.
Drawing from her experience as an independent worker navigating service gaps, Sousa has worked to set up ICUBE's latest multi-disciplinary entrepreneurship program: the Ideation Lab.
The Ideation Lab is designed for those who wish to establish start-ups and create positive social change in the world with their products or services. "When we talk about start-ups," Sousa explains, "we're looking at people who are often working solo as entrepreneurs or have a very small team, with no prototype. They're building a business from the ground up, beginning from scratch essentially."
The program supports cohorts every semester, including the summer. It welcomes UTM students (both domestic and international), alumni, and Peel Region residents of all ages. Enrollees gain access to monetary grants, mentorship from business coaches and investors, social connections through the ICUBE community, and resources that are both internal and external to U of T. As an example, a session with a lawyer would teach enrollees about corporate structures, so they might be able to incorporate their businesses later.
In combination with such in-person offerings, enrollees can also complete self-directed learning modules. These asynchronous and virtual modules cover "a range of topics, including social impact, business sales, finance, digital marketing, market research, design, thinking, and fundraising," shares Sousa.
"I remember there was a woman with a baby, a member who joined in on a call," Sousa recalls. "She was fussing with the baby, she felt guilty because the baby was crying, and she was struggling to keep up with the workshops—that really stuck with me." Sousa realized the need for a choose-your-own-adventure-style program to satisfy the different lifestyles of program members.
The Ideation Lab's predecessor—a similar program hosted collaboratively—was much more traditionally structured. Attendance at every weekly workshop was mandatory.
Though there are still certain requirements enrollees must fulfill, members of the Ideation Lab now mostly complete workshops and modules of their own choosing, according to their entrepreneurial needs, skill levels, and schedules.
"I pitched to my own bosses at ICUBE the idea of restructuring the program to minimize barriers for people who are already facing [them], because I don't want to take away an opportunity from a mother," Sousa says. "As a woman in this space, it's really important to me that we care a lot about supporting entrepreneurs from underrepresented backgrounds."
In creating truly flexible and inclusive programming, Sousa pulls from her counselling background to understand the unrepresented. She then helps them, using suitable strategies, make meaningful connections in the world of business: "The one thing that's personally rewarding for me to see is ensuring the Ideation Lab members have access to competitions […] where they have an audience of people who are listening to their ideas," shares Sousa.
At the end of each semester, members of the Ideation Lab can competitively pitch their start-up ideas to a panel of three judges for a chance to win cash prizes and additional professional support.
Alongside investors, the panel consists of past winners who are also former ICUBE members. On December 15, 2022, co-founder of UNfabricated and member of ICUBE's Venture Forward program, Prabaarja Bedi will be joining to judge for the fall cohort. Anyone interested in attending the pitch competition is encouraged to register for the Ideation Lab event.
Looking forward, the Ideation Lab is currently accepting applications for its winter 2023 cohort. The deadline to apply is January 10, 2023.
"We encourage people to apply because it's a great opportunity to take advantage of if they're admitted," says Sousa. She explains that not all applications are approved by saying, "The only reason we can't accept everyone is because there are limited resources, and we want to make sure that everyone has a coach." Once the deadline closes, all applicants will hear back from the Ideation Lab team by the end of January.
For more information on the program, you can join ICUBE for a virtual information session on December 7, 2022, from 11:00 a.m. to 12:00 p.m., or email Kayla Sousa with your queries before you apply at kayla.sousa@utoronto.ca.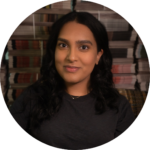 Sports & Health Editor (Volume 49)| sports@themedium.ca — Alisa is a third-year student completing a major in Professional Writing and Communication with a double minor in Political Science and Cinema Studies. She served as Editor-in-Chief of Mindwaves Volume 15 and Compass Volume 9 and was a recipient of the Harold Sonny Ladoo Book Prize for Creative Writing at UTM. Her personal essay, "In Pieces," appears in the summer 2020 issue of The Puritan. In 2022, she published her first poetry chapbook, Post-Funeral Dance, with Anstruther Press and wrote for The Newcomer as a journalist. When Alisa isn't writing, she's probably reading historical nonfiction, ugly-crying over a sad K-drama, or dreaming of places far, far away.