The status of the artist: "Ageism is the last discriminatory measure we have"

Cultural policy expert Garry Neil talks about the unstable professional lives of senior artists to help illustrate the overall conditions for creative work today.
As a result of the Massey Commission, which sought to nurture culture and art in Canada after World War II, various funding programs and support measures spurred the progress of creative activities within society, such as book publishing, film and television production, and those of the recording industry. 
"What this did is it generated a generation of artists, and for the first time the country had a very large and active professional artistic community that really developed throughout the '60s and '70s," says Garry Neil, a University of Toronto alum who has been working in artistic and cultural policymaking globally for more than 40 years.
In 1980, The United Nations Educational, Scientific, and Cultural Organization (UNESCO) called on Member States "to improve the professional, social and economic status of artists through the implementation of policies and measures related to training, social security, employment, income and tax conditions, mobility and freedom of expression." 
Shortly after UNESCO adopted its recommendation, the Canadian government created an advisory committee that eventually encouraged Canada to enact the Status of the Artist Act in 1992. "The first two pages talk about the principles [of having artists in society], the other 75 pages talk about issues and challenges in collective bargaining, establishing a regulatory regime for it and not much more than that," Neil says as someone who worked on that committee. "The government's interest faded [and] we realized these people from [the post-war artistic boom] are now aging." 
After conducting the Senior Artists Research Project, Neil, alongside a group of artists' associations and other individuals, found that senior artists are unique: "They don't retire, except those that have to, like dancers. Most senior artists continue to work and feel they are doing their best work today or that their best work was yet to come."
The findings of the study inspired the creation of the Canadian Artists Network (CAN), formerly known as the Canadian Senior Artists Resource Network, nearly 20 years ago. CAN is an organization that offers services and programs to support the needs of seasoned artists from various disciplines. Neil currently sits as the chair on the board of directors for CAN. 
The organization recently held its eighth annual virtual conference, called Maintaining Creativity 8, wherein Neil hosted one of three panels. "Chapter Three: The Original Gig Workers: Strategies towards Economic Stability" explored the issue of professional artists' median income as lower than that of all workers and how this particularly impacts the well-being of senior artists. 
Having joined the panel, actress and advocate for performers, Ferne Downey, discussed an actor's inconsistent yearly income as incumbent upon various short-term contracts, and how many not only create work for themselves but also manage and promote it independently. Senior artists are particularly vulnerable to this financial precarity of life, along with healthcare problems, as independent or self-employed workers. With the popular focus of funding bodies on younger artists, even more so.
"Emerging artists need to be supported because this is the next generation […] and then over the last 20 years what we've seen is a focus on communities that have been traditionally marginalized, and again this is great, this is something that we need to do, equity-deserving communities need to be supported, but what then happens with that, of course, is that older artists are kind of ignored," Neil says. "The thinking is you're a mature professional, you're able to do this on your own, you don't need public support."
If there isn't a strong general understanding of the day-to-day challenges that a lot of senior artists are faced with, in addition to the uncertainty that is naturally characteristic of the artist's professional life, why do they continue to pursue this way of living? What motivates senior artists to continue after a lifelong struggle, knowing what the outcome of their efforts will be?
Neil answers simply: "It's because they love to do the art that they do it. It's only later that it becomes a career. That passion stays with them […] If you want to keep having a robust artistic community, you're going to have to respond to that."
Since the Covid-19 pandemic saw the unemployment of many, the status of the artist is an active discussion in Canada now. "The fact that artists were quite key in social cohesion and intercultural dialogue on Zoom and in various other ways, the arts proved its importance, there was an understanding that artists work in different ways," Neil concludes.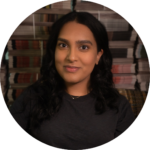 Sports & Health Editor (Volume 49)| sports@themedium.ca — Alisa is a third-year student completing a major in Professional Writing and Communication with a double minor in Political Science and Cinema Studies. She served as Editor-in-Chief of Mindwaves Volume 15 and Compass Volume 9 and was a recipient of the Harold Sonny Ladoo Book Prize for Creative Writing at UTM. Her personal essay, "In Pieces," appears in the summer 2020 issue of The Puritan. In 2022, she published her first poetry chapbook, Post-Funeral Dance, with Anstruther Press and wrote for The Newcomer as a journalist. When Alisa isn't writing, she's probably reading historical nonfiction, ugly-crying over a sad K-drama, or dreaming of places far, far away.