Professor Brian Price on World Picture

The online, open-access journal welcomes early-career and non-North American art and research to help people think about time and space in different ways.
Brian Price, Cinema Studies Professor at the University of Toronto Mississauga (UTM), co-founded World Picture to create space for more experimental forms of academic writing, especially those that involve critical theory. "Often, young scholars who want to write theory are dissuaded by their committees or asked by them to soften the theoretical dimension or identify themselves more strongly with a nation and a period," Professor Price says. "Some theoretical work benefits from historical context, but not most of it."
The idea of the journal emerged around 2006, in collaboration with Dr. Meghan Sutherland of UTM's Visual Studies Department and John David Rhodes, Director of the Centre for Film and Screen at the University of Cambridge. 
"At that moment, we were all early in our careers [and] so many disciplines in the humanities—film studies especially—were concerned to develop approaches to style, say, that were entirely categorical, […] what was different about any given work of art would be de-emphasized in favour of what the art object could be shown to share with others," Professor Price explains. "All of us were interested—still are, probably—in how all of these differences can be held together as differences. There is simply no reason to organize works of art in the way that we organize our pantries."
World Picture each year is themed around one word that, when interpreted and understood in various aesthetic, political, and cultural contexts, lends itself to a uniform collection of different ideas—and not just as essay writing. Since its inaugural issue in 2008, the journal has been committed to publishing a larger scope of works, such as poetry, philosophy, visual media, interviews, and works of art from around the globe. 
"We thought that the kind of changes we wanted to see in the humanities were likely to be changes welcomed by so many outside of North America—and we were right about that," Professor Price says of scholars in other countries who struggle to access work outside of their local systems. "Over the last decade, especially, everyone—journals, authors, galleries—have all adopted the one-word approach: one word per chapter, one word per exhibit, and so on. We're very proud to see our influence in that."
From November 17 to 18, 2023, World Picture held its annual conference in Germany at the ICI Berlin Institute for Cultural Inquiry, where attendees enjoyed a program of lectures on modeling practices across a vast array of disciplines, from film and architecture to economics and environmental humanities. The organizers also met a host of not only established but also emerging scholars. 
"[Supporting early-career researchers] has always been our primary ambition, especially with the conference that is related to the field," says Price. "The conference has for many years now served as a place where young scholars can get supportive, constructive feedback on directly theoretical work and begin to take part in networks of established, senior theorists from all over the world." Previous conferences have taken place at Oklahoma State University, University of Toronto, University of Sussex, and Corpus Christi College at the University of Cambridge.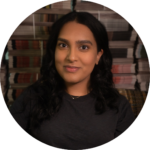 Sports & Health Editor (Volume 49)| sports@themedium.ca — Alisa is a third-year student completing a major in Professional Writing and Communication with a double minor in Political Science and Cinema Studies. She served as Editor-in-Chief of Mindwaves Volume 15 and Compass Volume 9 and was a recipient of the Harold Sonny Ladoo Book Prize for Creative Writing at UTM. Her personal essay, "In Pieces," appears in the summer 2020 issue of The Puritan. In 2022, she published her first poetry chapbook, Post-Funeral Dance, with Anstruther Press and wrote for The Newcomer as a journalist. When Alisa isn't writing, she's probably reading historical nonfiction, ugly-crying over a sad K-drama, or dreaming of places far, far away.