Learning to write about the environment and its issues

Dr. John Currie on the craft of environmental writing in today's world.
A professor in the professional writing and communication program at the Institute of Communication, Culture, Information and Technology at the University of Toronto Mississauga, Dr. John Currie has been teaching WRI375: Climate Communication (formerly Writing about Environment and Ecology) since 2008. 
The Medium spoke with Dr. Currie on the course and environmental writing at large.
The Medium: What can you tell us about WRI375: Climate Communication and how it came to be?
John Currie: When I studied journalism at [the University of British Columbia] a few years prior, I was the only one in my class interested in environmental reporting. No courses existed. The beat was considered niche by media, impossible to do full-time. So much has changed.
The course began as a nature writing course and has evolved into environmental journalism and now, by necessity, covers the difficult current atmosphere of division, delayism, doomism, greenwashing, as well as how people receive and act (or don't act) on climate information, politically and psychologically.
TM: What inspires you to teach the course?
JC: To hope, writes Rebecca Solnit in Not Too Late, is "to recognize that what is unlikely is possible, just as what is likely is not inevitable. To understand that difficult is not the same as impossible." And I like how she points out that hope is not just optimism, because optimism or pessimism can lead to inaction. For Solnit, to hope is "to know that joy can appear in the midst of crisis, and that a crisis is a crossroads." It means rolling up your sleeves.
TM: What can students expect to learn in this course? What are the benefits of taking it?
JC: To be a writer is to be an educator. My students' task is to take difficult concepts from current scientific research and communicate them in a way readers can understand and relate to. It is not an easy thing to do, but it's the kind of practice that is valuable to employers, and students leave with a portfolio of proof they've pushed themselves to take their writing to a higher level.
TM: What are some examples of the coolest environmental writing pieces you've received from students through this course?
JC: The course is solutions-based. Last year, Alan Tran looked into gamification as a means of raising climate awareness. Emily Minasvand wrote a great series of pieces about mental health and climate change. Jolene Milne wrote about urban green spaces and included an article about guerrilla gardening. Mariela Sol Torroba Hennigen, who has lived in Brazil, researched the state of the Brazilian Amazon before, during, and after Jair Bolsonaro. She gave herself the opportunity to learn more about an environmental issue close to home that she had always wanted to explore.
TM: Why is writing a powerful tool when it comes to topics such as sustainability?
JC: We need to see that the world operates by stories we amass and stories we tell ourselves and others. The late Thomas Berry, a cultural historian, criticized our major institutions for repeatedly disorienting us by story, and that learning how the universe came to be can humble us before the great creativity of the more-than-human. The same creativity, says Berry, that plants used to develop photosynthesis and thrive, runs through us. Our task is to learn to question dangerous, outdated stories and their origins, while broadening an awareness of our role as humans as one species among many in these troubled times. It always comes down to story, and language is one of the most powerful modes of expression.
TM: What works of environmental writing would you recommend our readers read and why?
JC: Journalist Elizabeth Kolbert's writing, for me, is the best of the best. There is other nonfiction I'd recommend by scientists, such as Michael Mann and Katharine Hayhoe. The book Braiding Sweetgrass by Robin Wall Kimmerer does interesting things with the form, entwining indigenous wisdom with scientific knowledge, told through stories of plants. In the course, we read Paul Hawken's Regeneration.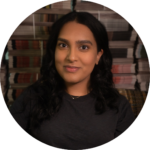 Sports & Health Editor (Volume 49)| sports@themedium.ca — Alisa is a third-year student completing a major in Professional Writing and Communication with a double minor in Political Science and Cinema Studies. She served as Editor-in-Chief of Mindwaves Volume 15 and Compass Volume 9 and was a recipient of the Harold Sonny Ladoo Book Prize for Creative Writing at UTM. Her personal essay, "In Pieces," appears in the summer 2020 issue of The Puritan. In 2022, she published her first poetry chapbook, Post-Funeral Dance, with Anstruther Press and wrote for The Newcomer as a journalist. When Alisa isn't writing, she's probably reading historical nonfiction, ugly-crying over a sad K-drama, or dreaming of places far, far away.