UTSU advocates for Palestine rights

Endorsed by UTSU, BDS motion bans funds to firms involved in Israeli's occupation of Palestine.
On February 16, the University of Toronto Students' Union (UTSU) voted for the passing and endorsement of boycott, divestment, and economic sanctions (BDS) against Israel. The decision was prompted by their goal to divest funds and ban any source of investment into firms who occupy Palestinian Territory.
The UTSU is a student-led organization that addresses a range of concerns, including dental care, student aid, and funding for integral sports clubs and committees. The UTSU is led by a diverse body of representatives that advocate on behalf of 38,000 students and the issues they confront.
The union organizes and facilitates public education campaigns while supporting an array of student-led initiatives, including virtual meetings. On February 17, over 500 students attended a meeting whereby the BDS motion was approved by 50 votes.
Over the past decade, there have been a number of unjustified attacks against Palestine by Israeli forces. The ongoing territory dispute and Israeli occupation of Palestinian land has been persisting for years, provoking relentless controversy.  
Daniel Koren, executive director of Hasbara Fellowships Canada, expressed his views on the discriminatory nature of the motion in a public email to U of T president Meric Gertler.
Koren stated that the UTSU passing the BDS motion with vague language could be interpreted as banning and boycotting of Jewish owned-businesses, which is discrimination against the rights and freedoms of Jewish students on campus.
In December 2021, Hasbara Fellowships Canada also reached out to U of T to put pressure on and address U of T Scarborough Campus Student Union's (SCSU) support for BDS and banning Kosher food. The motion stated that food would be ordered strictly from Kosher caterers who "do not normalize Israeli apartheid."
This motion, passed in November, implied union members could only purchase Kosher food if it came from organizations that did not support Israel. As a result, backlash came from Jewish students who feared it would interfere with their ability to keep kashrut on campus.
After this policy was devised, President Gertler issued a statement addressing the SCSU's actions to boycott Kosher food on campus. As a result, the SCSU abolished the clause banning Kosher food from its motion, as it infringed freedom of speech and inclusion rights.
Since the BDS movement was announced, several individuals took to social media to express their mixed views regarding the motion.
On Twitter, one user states shortly after the motion was passed, "Truly never thought I'd see the day that the UTSU passed BDS while I was still a student at U of T. Words can't begin to describe how much this victory means to me and fellow organizers that have been involved. Years of hard work have finally paid off."
Alternatively, @StopAntisemites tweeted, "From Harvard University to the University of Toronto, pro-Palestinian groups are attempting to restrict the access of certain kosher foods to Jewish students. This blatant antisemitism must never be tolerated and those responsible must be held accountable."
Following the announcement of these policies, the integrity and freedoms of students on campus has been considered by U of T in response to the politically divided views stemming from the passing of BDS.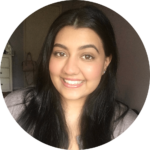 Staff Writer (Volume 48) — Anjalli graduated with a Specialization in Political Science and a minor in English. Through her contributions at The Medium, she aims to educate readers on the unique complexities of life and how we strive to overcome challenges collectively through policies and voice. In her free time she enjoys reading the latest news, meditating by her Saje diffuser, or looking at Pinterest for fashion inspiration. If you ask Anjalli what her favourite food is, she'd reply "a green dragon sushi roll!"