Students hold U of T accountable after distributing "hell money" for Lunar New Year

U of T releases public statement apologizing for their error in distributing imitation money, stating it was "not intentional or malicious."
U of T is recently facing backlash from students after giving out "hell money" to graduate students celebrating Lunar New Year this month. Instead of receiving money, students were handed incense paper in bright red envelopes that read "Hell Bank Note."
Traditionally in China, bright red envelopes filled with cash are sent to loved ones as a symbol of good luck and prosperity as the New Year starts. Incense paper, also known as joss paper, is typically observed in Chinese funerals as a way to honour passing relatives or friends in the afterlife. These imitation bills that were distributed by U of T can indicate negative messages, including 'you are dead to me' or 'I wish you were dead.'
Following this incident, U of T's Asian community is expressing their concerns regarding what they describe as a hate crime. Students are calling on the university to address the matter and take responsibility for their actions.
In a statement to NBC Asian America, U of T gave a public statement apologizing to all those affected by the incident.
"We treat incidents of racism with great seriousness, and we have investigated this matter fully. We have concluded that the error was not intentional or malicious. We deeply regret that this mistake occurred during a time that was meant to be joyful and celebratory," they write.
No information about who was responsible or how the crime took place was released. U of T's Asian Communities created a petition on Change.org calling for the administration to conduct a more in-depth investigation to find the perpetrators of this attack. With a goal of 10,000 signatures, the petition currently has more than 9,700.
The Medium interviewed Asian students at the University of Toronto Mississauga (UTM) about their thoughts on the incident. Amanda Chen, a first-year student in the Management program, states, "It's a very poor attempt at a joke. It is very rude to Chinese [individuals], as Lunar New Year is a very important event to us. They can't disrespect our culture like this."
Yawen Deng, another first-year student in management says, "The university can't just send envelopes without doing any research or consenting with students of the culture."
Co-presidents of U of T's Canadian Asian Student Society, Ivy Zhang and Alex Chow, echoed Deng's statement that the institution did not consult students prior to sending the envelopes.
In a Facebook message to The Globe, Zhang and Chow expressed their dismay at the Graduate House's "lack of research into cultural sensitivity and proper etiquette." According to them, the incident could have been avoided if the staff had conferred with Chinese staff or students prior to sending the envelopes.
On February 11, a meeting hosted by U of T's Asian student organization was interrupted by a man wielding a machine gun and hurling racial epithets. The meeting, which was attended by over 90 students, was held in support of those harmed by the "hell money" incident that occurred on Lunar New Year. Although the action lasted a few seconds, it inflicted trauma upon participating students.
According to U of T, Campus police and Toronto police have been contacted in light of the event. The University is supporting the Asian student organization in enacting stricter security measures for Zoom meetings and events, especially those open to the public, to avoid similar situations happening again.

For students that have been affected by the two incidents, UTM offers free counseling and mental health services at the Health and Counselling Centre located in the William G. Davis Building. Following these events, students at U of T and UTM continue to hold the university accountable for administering harmful acts towards the Asian community. The university should provide as much support as possible to prevent future occurrences.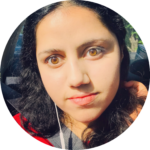 Staff Writer (Volune 48) — Shreya is in her first year at UTM, seeking a double major in business management and English. She hopes to bring attention to worldwide issues and inspire others to change their mindsets through her contributions to The Medium. When she is not writing articles, you can find her sipping coffee and reading, watching classic films, listening to music, or engaging in photography.