UTM raises Tipi and Teaching Lodge for placemaking and reconciliation

The newly raised Tipi and Teaching Lodge at UTM will serve as a location for gatherings, ceremonies, and learning.
On the morning of September 13, 2023, the Tipi and Teaching Lodge was raised on Principal's Road at the University of Toronto Mississauga (UTM) campus. The Medium reached out to the Office of Indigenous Initiatives (OII) through email to learn more about how the Tipi was raised, its significance, and the duration it will stay raised for.
According to Jessica Tabak, the OII Special Projects Officer, three poles are structured at the heart of the Tipi with others surrounding it. The Tipi is shaped like a spiral, as each pole is placed atop the previous to "direct water out of the Tipi." The cover is then "laced up using lacing pins."

The Tipi has historically served as a shelter for Indigenous people because it is "portable, durable, water resistant, and easy to disassemble and erect." The Tipi also serves as a space for ceremonies and gatherings. There are customary rules to follow when using the Tipi—especially when it relates to the sacred fire inside. Tabak expects that the Tipi will remain for around two years. "During this time ceremonies, programming, events, and classes will take place in the Tipi," she explains.
As for the Teaching Lodge, it will be utilized as a teaching environment akin to a classroom. The Lodge contains a wooden stove for heating during winter.
The Tipi and Teaching Lodge are part of the placemaking and reconciliation efforts between the Canadian Indigenous communities and U of T. Tabak references U of T's response to the Truth and Reconciliation Commission of Canada Report, Answering the Call: Wecheehetowin Report, and UTM's Strategic Framework, both of which reaffirm the university's commitment to reconciliation with Indigenous communities. 
As a concluding thought, Tabak states: "The Tipi and Lodge mobilize meaningful reconciliation efforts here on campus, support our roadmap for change set out in our Strategic Framework, and also enable UTM's Office of Indigenous Initiatives to conduct operations in spaces that are reflective of Indigenous community."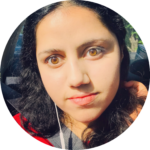 Staff Writer (Volune 48) — Shreya is in her first year at UTM, seeking a double major in business management and English. She hopes to bring attention to worldwide issues and inspire others to change their mindsets through her contributions to The Medium. When she is not writing articles, you can find her sipping coffee and reading, watching classic films, listening to music, or engaging in photography.