Canadians predicted to spend over $1 billion on Halloween

Consumers are spending more on Halloween due to the return of large scale celebrations, inflation, and supply chain disruptions worldwide.
According to a recent multi-source report from HelloSafe, an insurance company, Canadians are expected to increase their Halloween spending by 28.4 per cent this year, with the report estimating that Canadians will spend $1.64 billion on Halloween this October.
The bulk of the budget will be directed towards costumes, which will cost $41.50 on average. Additional costs include an average of $22.40 on candies, $12.90 on activities, and $10.80 on decorations.
Over the month of October, $486 million worth of candy is estimated to be sold across the nation. Despite a marked increase over the past two years, Canadians will still be spending less than the $560 million spent on candy in 2019.
Supply chain issues and inflation play a significant role in the increased spending. According to Statistics Canada, over the third quarter of 2022, 58.2 per cent of Canadian businesses experienced a rise in supply chain disruptions.
Of these businesses, 82.7 per cent reported delivery delays, 78.3 per cent reported increased prices, and 72.3 per cent reported reduced access to supplies.
In particular, the production of candies is impacted by the harvesting of sugar in Brazil, which has decreased due to excess rainfall. Currently, Canada imports US$460.77 million worth of sugar and sugar products from Brazil.
University of Toronto economics professor Angelo Melino offered his insight in an email interview with The Medium, stating: "Lack of sugar production is certainly a problem but it's important to remember that commodity prices are not typically volatile. The price of candy will not continue to increase 10 [to] 20 per cent per year."
When asked what he predicts will happen to the economy and consumer behaviour in 2023, Professor Melino stated, "Relative prices have significantly changed. The substitution effect only amplifies the problem since average workers are losing production power. We're dealing with the kind of inflation where people will need to cut down on certain purchases."
While consumers are eager to celebrate Halloween without public health restrictions, a greater budget will be needed to address increasing prices resulting from inflation and supply chain disruptions.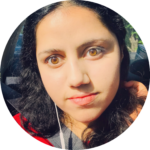 Staff Writer (Volune 48) — Shreya is in her first year at UTM, seeking a double major in business management and English. She hopes to bring attention to worldwide issues and inspire others to change their mindsets through her contributions to The Medium. When she is not writing articles, you can find her sipping coffee and reading, watching classic films, listening to music, or engaging in photography.