Palestine faces an increase of unjustified attacks
Israeli forces recently launched a multitude of raids and arrests, which resulted in several Palestinian injuries. During these attacks, 49 were wounded, while another 10 were captured by occupation forces. Some injuries were caused by rubber-coated metal bullets and shrapnel from sound bombs. The number of these raids have significantly increased in occupied East Jerusalem, forcing countless Palestinians out of their dwellings.
Many Palestinian families gathered at Damascus Gate to commemorate the birthday of the Prophet when Israeli forces attacked civilians with weapons, including the firing of tear gas and other lethal fumes on October 19. For the second day in a row, forces stormed the area, resulting in the physical abuse of several individuals including children.
Earlier this June, nearly 130 Palestinian homes were demolished for the construction of a biblical theme park. Despite legal challenges to the demolition of these residences, the Israeli municipality continues to devastate Palestinian premises.
On October 26, Israeli forces attacked Palestinian protestors at Al-Yousufiyah Cemetery who gathered to demonstrate against the bulldozing of these graves.
According to local sources, the Israeli municipality has been digging up these graves and desecrating them to make way for the theme park. The park is set to open in 2022 over parts of the cemetery spanning more than 1.4 acres of land. So far, authorities have already destroyed the graves of numerous Palestinians.
However, Israeli forces are denying these claims, instead stating that burial grounds will remain untouched.
Contrary to these assertions, video footage from October 25 reveals a Palestinian woman sobbing and hanging on her deceased son's gravestone while being dragged away. This footage recently circulated throughout social media capturing the attention of many young activists. The 54-year-old woman named Alaa Nababta has been suffering since the passing of her son four years ago.
"Bury me here," Nababta cried to Israeli forces in the published video.
The plans to build this theme park provoked confrontations by Palestinians as their gravesites are being disturbed and illicitly interfered with. As Israeli authorities have been transgressing Muslim graves for decades, many cemeteries face the threat of demolition despite their deep history.
Today, more than 100 buildings, housing 1500 people in occupied East Jerusalem, have been destroyed due to the building of the park. With the displacement of 759 people, Israeli authorities have also demolished 568 Palestinian structures.
In late October, Israel classified six Palestinian human rights groups as 'terrorist organizations.' As a result, more than 288 social justice, civil rights, and human rights organizations based in the U.S. are calling on the Biden administration to denounce this decision. These groups are facing mass arrests, as well as the risk of being shut down. Any individual belonging to these groups can also be subject to imprisonment.
For further support, UTM students can consider joining the Association of Palestinian Students (APS) at the university. The association holds rallies, discussions, workshops, and activity nights for not only Palestinian students but anyone at the school. The association aids students by curating activities for Palestinians for them to share their experiences while also hearing the experiences of others.
The president of the APS, who prefers to keep their name private, states in an interview via direct message, "Our club's goal is to create a community that allows Palestinian students at UTM to feel welcomed and supported from not just other Palestinians, but from non-Palestinians as well. We work to foster that environment by organizing events that educate, raise awareness and promote the support of Palestine on campus."
The association also mentions they often collaborate with other clubs on campus to provide optimal experiences for students. "Ultimately, we are here to show Palestinians that despite how hard and alone it may feel sometimes, they are not alone on campus. They are heard, supported, and welcomed."
Additionally, Hearing Palestine is a talk series hosted by U of T that invites alumni from Palestinian backgrounds to share their experiences on campus. Founded in fall of 2020, the series is run by students and faculty through collaboration with the Institution of Islamic Studies (IIS). The series provides support for Palestinians by making students feel validated and not alone.
It remains unclear as to when Palestinians will be able to evade these strikes occurring within their land. Today, the numbers of victims are continuing to rise even while the country has already been removed by international maps and replaced by the Israeli network. To learn more on how to support Palestinians, U of T students can seek support through many different initiatives that operate within the university.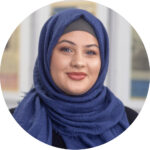 News Editor (Volume 48) | news@themedium.ca —
Going into her third year, May is currently completing a double major in Sociology and Criminology. Before becoming News Editor, May contributed The Medium for two years as a Staff Writer and Associate Features Editor. One of her biggest goals is to launch a nonprofit organization that mediates humanitarian crises around the globe and that supports children living in third-world countries. When she is not writing or studying, May spends her time working with canine coaches to provide supervised fun to four-legged furry friends at Dogtopia Applewood.