Millions of people are displaced as Nigeria enters its twelfth year in conflict
Nigeria's decade-long conflict is not only aggravating the country's economic system but is also leaving millions of people in dire need of humanitarian assistance. Specifically, more than eight million are seeking help and almost two million are internally displaced. According to CARE International, 80 per cent of affected persons are women and children.
Since the country's crisis began with acts by the extremist group Boko Haram in 2009, thousands of women and children have been abducted. Many women are facing gender-based violence, trafficking, and forced survival sex in exchange for necessities like food.
The Global Humanitarian Overview is a comprehensive and evidence-based assessment of humanitarian needs around the world. Issued February 2022, a published report reveals current data and key findings of Nigeria's crisis.
The report confirms that the presence of non-state armed groups in North-East Nigeria is persisting intensely, devastating agricultural production and discontinuing essential services. In 2022, the country is entering its twelfth year in conflict with these groups.
An estimated 8.4 million people in the states of Borno, Adamawa, and Yobe are in "acute need of humanitarian and protection assistance." The report also confirmed that women and girls are the most vulnerable of this population.
In terms of education, promoting access to inclusive, quality education services remains a key priority in the North-East, as many schools have been damaged and were forced to close in 2020. The report states that education needs will remain critical and are likely to increase due to flooding and the country's ongoing insecurity.
Since the start of the Covid-19 pandemic, the number of people in need of urgent care has risen to 10.6 million in North-East Nigeria. The pandemic provoked the country's socio-economic landscape, leaving more than seven million people in need of humanitarian attention.
Prior to the pandemic, more than 90 million Nigerians were living in extreme poverty. In June 2020, The World Bank predicted that the shock of Covid-19 would push five million more people into poverty. Since then, the macroeconomic impact of the pandemic has been significant, with more than 250,000 confirmed infections.
Authorities in Nigeria have taken various steps to mitigate the spread of the virus, including the implementation of lockdowns and social distancing measures. However, the outbreak continued to worsen, leaving thousands deceased and others requiring emergent support. By August 2020, the country's economy shrank by six per cent.
In December 2021, the country destroyed more than one million expired doses of the AstraZeneca vaccine at a landfill in Abuja, Nigeria's capital. The destruction took place after health authorities announced that some doses donated by Western countries had a shelf life of only a few weeks.
In response to the emergency crisis, CARE began work in Nigeria in 2017. The organization is working on three programs to support the country including Sexual Reproductive Health Rights, Gender-Based Violence prevention and response, and Food and Nutrition, Security and Livelihood.
For individuals interested in donating to Nigeria, CARE is accepting donations and documenting how proceeds are allocated on their website through various financial reports.
Individuals can also raise awareness if they are unable to donate by sharing the country's situation on social media platforms such as Instagram and TikTok. It is important to urge governments to expand economic opportunities through online petitions.
International Organization for Peace Building and Social Justice started a petition on Change.org to address the killings occurring in Nigeria. With a goal of 75 thousand, the petition has more than 55 thousand signatures.
After more than a decade of conflict, it is time for international governments and organizations to address and prioritize Nigeria's worsening crisis. Waiting on these establishments to respond to the crisis is not enough to help the country, as we must continue to spread awareness and educate ourselves on the topic.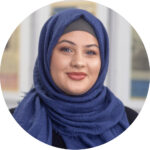 News Editor (Volume 48) | news@themedium.ca —
Going into her third year, May is currently completing a double major in Sociology and Criminology. Before becoming News Editor, May contributed The Medium for two years as a Staff Writer and Associate Features Editor. One of her biggest goals is to launch a nonprofit organization that mediates humanitarian crises around the globe and that supports children living in third-world countries. When she is not writing or studying, May spends her time working with canine coaches to provide supervised fun to four-legged furry friends at Dogtopia Applewood.