Universities to uphold mask mandates until the end of April

The Ontario government scraps mask mandates after careful discussion with health officials.
After two years of the Covid-19 pandemic, the Ontario government is removing mask mandates on March 21 with a few exceptions. Ontario's Chief Medical Officer of Health, Dr. Kieran Moore, announced on March 9 that mask mandates will be lifted in indoor public settings such as schools, restaurants, gyms, and grocery stores.
However, other enclosed spaces will continue to require masks including jails, shelters, nursing homes, and public transit.
The decision to lift the mask mandate has been carefully assessed and evaluated by the provincial government. Recent trends reveal that Ontario's Covid-19 positive cases have stabilized along with diminished hospitalizations—enabling hospitals to have greater leeway and less stress.
On March 12, a total of 772 patients had tested positive for Covid-19 who required immediate medical assistance in a hospital setting—a 9.3 per cent decline from the previous week.
The Council of Ontario Universities has decided that many post-secondary institutions such as U of T, Queen's University, and Ryerson University will keep the mask mandate in place until the end of the semester—being the end of April 2022.
Many students at U of T advocate for mask mandates until the end of this year's term to ensure optimal health and safety and reduce the number of incoming cases.
Alexandra Gikas, a third-year student majoring in Economics at the U of T St. George, expresses her views on the mask mandate. In an interview with The Medium, she states, "Ultimately, the university has an obligation to prioritize the health and safety of their students during this time of uncertainty, so I am indifferent to the mask mandate being lifted now or towards the end of April."
At the same time, Gikas also feels masks can inhibit a student's university experience. "I do think students should start experiencing life on campus without the obligation of wearing masks with hopes of returning to a state of normalcy," continues Gikas.
While a few students have no objection to the mandates, others are concerned about what this will mean for their upcoming graduation.
Parmeet Singh, a fourth-year Biotechnology major at the University of Toronto Mississauga nearing the end of his studies, discusses his views on the mandate with regards to convocation.
"Although as a fourth-year undergrad, I look forward to an in-person convocation and would love to be mask-free, I know that it is important to be mindful that the risk of [contracting] Covid-19 still exists. Wearing masks is one of the most effective ways to protect oneself and stop further spread," Singh says.
"I believe that U of T has made the right decision to keep the mandate considering that campus is a very densely packed environment with many students commuting making it a high-risk area," he continues.
As many students and faculty are returning to in-person learning environments, the decision to keep masks in universities is a step in the right direction to prevent the spread of the virus.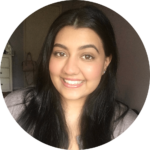 Staff Writer (Volume 48) — Anjalli graduated with a Specialization in Political Science and a minor in English. Through her contributions at The Medium, she aims to educate readers on the unique complexities of life and how we strive to overcome challenges collectively through policies and voice. In her free time she enjoys reading the latest news, meditating by her Saje diffuser, or looking at Pinterest for fashion inspiration. If you ask Anjalli what her favourite food is, she'd reply "a green dragon sushi roll!"