U of T implements free menstrual hygiene products for students
Last year, the Minister of Education, Stephen Lecce, announced that the Ontario government will provide schools with free menstrual products to distribute to students. Considering this, the U of T community is offering free menstrual products including tampons and sanitary pads for students at their St. George campus.
U of T's Mississauga and Scarborough campuses are also offering free menstrual products, as endorsed by their student unions.
The aim of this movement is to "address stigma around menstruation," as stated on the U of T website. Free dispensers are now available in 75 washrooms among the St. George campus, including buildings like Robarts Library, Student Commons, and Exam Centre and many more. Meanwhile, the Scarborough campus holds 16 stocked washrooms, and the Mississauga campus has more than 70 stocked washrooms.
The project was first proposed in 2019, but due to the pandemic, it was delayed until 2021. Planning resumed when students gradually made the return to campus. The St. George campus will continue to monitor product demands over the coming months to ensure optimal use for students.
This new change will enable several students and faculty on campus to easily access hygiene products in convenient locations. Data from 2019 reveals that women often sacrifice their budget in order to afford these products and, many times, are not able to access them in proper facilities.
As stated on Plan International Canada, "63 [per cent] of women and girls regularly have or occasionally missed an activity because of their period and concerns about not being able to access menstrual hygiene products or proper facilities." This prompted several organizations to consider equipping free hygiene products for women to easily access.
For instance, schools in British Columbia, Canada, were ordered to provide free menstrual products by the end of 2019. In September 2019, Education Minister Rob Fleming of British Columbia said in a public announcement, "As a government we believe it's time to normalize and equalize access right across the province to menstrual products in schools."
In an online joint statement on March 8, the Toronto Youth Cabinet, along with 44 other university student unions, calls on the Ontario government to address the issue of menstrual products for young people. In this letter signed by the 45 organizations, including all three U of T campus student unions, they write, "We are also asking that all Colleges and Universities ensure that this initiative is in place by 2022." The letter is specifically addressed to the Minister of Colleges and Universities, Jill Dunlop.
With Menstrual Hygiene Day approaching on May 28, it is no surprise that the stigma of talking about menstruation is still apparent today. Research presented by Plan International Canada reveals six in 10 women feel prompted to lie or hide menstrual products.
Loridee de Villa, a second-year student majoring in biology at the University of Toronto Mississauga campus, shares her thoughts on the topic. She states, "I have not heard of it before. I think it's a good initiative to ensure equity among students. Menstrual products are essential, so this project will benefit those who cannot afford them."
Regarding the project, de Villa is optimistic that this initiative will start bringing people to be open about women's health for all genders.
In order to ensure equal resources for students, U of T and other universities continue to monitor these projects for students. Students can find more information on which washrooms have access to these products on U of T's interactive campus map.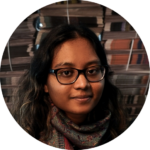 Staff Writer (Volume 49); Associate News Editor (Volume 48) — Razia Saleh is currently completing a Biology degree at UTM. She has been involved with The Medium since 2020 as a contributor and continued to write for The Medium as an Associate News Editor during Volume 48. She hopes that her experience as a writer with The Medium will help her contribute to society's efforts to provide authentic and factual journalistic media to educate her readers. She hopes to take her interest in ongoing research within the scientific field and explore ways to share it with others through this platform. In her spare time, she paints natural landscapes inspired by her travels and enjoy a few live concerts throughout the year. You can connect with her on Linkedin.