Ontario schools to distribute free menstrual products for students by late fall

Shoppers Drug Mart addresses public health crises through partnership with Ministry of Education.
After careful negotiation, the Minister of Education, Stephen Lecce, has announced the Ontario government will provide schools with six million free menstrual products. Shoppers Drug Mart, one of Canada's largest retailers, has partnered with Ontario to distribute feminine hygiene products to 72 school boards starting late fall.
All students will be able to access free pads. These products will be made available in both female and gender-neutral bathrooms. The government is also in the process of discussing a distribution system for students to access tampons. Lecce plans to first evaluate student feedback before introducing tampons.
Period poverty has been an ongoing human rights issue for many years. This issue occurs when an individual is unable to afford period products and must resort to using other resources to manage their cycle.
The Plan International Canada report reveals that 83 per cent of women under the age of twenty five who did not have access to pads experienced huge impacts on their educations. For instance, these women were not attending classes, participating in extracurricular activities, or carrying out work-related responsibilities.
Being deprived of basic essential hygienic care is an issue that deserves attention to allow individuals to excel and keep up with the times of a changing economy.
In another survey, 41 per cent of individuals were teased for being on their period by close friends, colleagues, and relatives. Teasing and period poverty combined has led those affected to feel ostracized and unmotivated to participate in daily tasks.
Essentially, the aim of this initiative is to reduce inequality by normalizing free menstrual products. As schools begin to provide free menstrual products, they implement a system that supports and understands the daily lives of those experiencing menstruation, their health, and hygiene. This initiative will also educate others and raise awareness about the importance of accessible period products to eliminate health risks.
As Covid-19 led to financial distress due to unemployment amongst individuals, many were impacted. It was discovered in a survey by Plan International Canada that 34 per cent of individuals have sacrificed something else within their budget to make ends meet and afford buying period products. There have also been instances where females use menstrual products for too long, leading to toxic shock syndrome and infections.
This legislation will prevent students from worrying about an additional monthly expense, allowing them to save money and enable them to afford school supplies, food, textbooks, field trips, and a social life—all crucial for their mental wellbeing.
Jasmine Abbas, a first-year student at UTM planning to study criminology, law and society, and French studies shares her thoughts on this initiative.
"This marks the beginning of a revolution that will work towards the equality of all women. Now that we have managed to have access to such a powerful product, we finally feel [freer] in our own skin, and therefore we can change society's views."
The push for free menstrual products by various organizations has changed the way society will consider those with periods. This initiative will provide free care for students in their most vulnerable ages of development and allow them to embrace periods without feeling the need to hide it.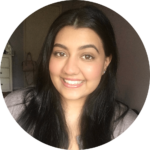 Staff Writer (Volume 48) — Anjalli graduated with a Specialization in Political Science and a minor in English. Through her contributions at The Medium, she aims to educate readers on the unique complexities of life and how we strive to overcome challenges collectively through policies and voice. In her free time she enjoys reading the latest news, meditating by her Saje diffuser, or looking at Pinterest for fashion inspiration. If you ask Anjalli what her favourite food is, she'd reply "a green dragon sushi roll!"