UTMSU invites students to gather virtually for their Annual General Meeting

The Textbook Exchange Program and the Job Readiness Program are only a few of the new changes implemented this year for UTM students.
On November 23, the University of Toronto Mississauga Student Union (UTMSU) held their Annual General Meeting, where they discussed future plans and current campaigns. Using their UTORid, students from the University of Toronto Mississauga (UTM) were able to register for the meeting and join via Zoom.
The UTMSU began by discussing the impact of the Covid-19 pandemic on the university. The union made it a priority to continue hosting in-person events, such as Cyber 2021, Sauga Fest, and Halloweek, as they recognize the challenges most first-year students face with making new friends.
The UTMSU also mentioned they will be continuing campaigns such as Know Your Academics, My Mental Health Matters, Fairness for International Students, United for Equality, Consent is Mandatory, No Means No, Education for All, and the Safe Return to Campus. The union acknowledges they have been closed for the majority of the pandemic and for this reason, they will continue to find new ways to support students.
Additionally, during the summer, the UTMSU continued with summer care packages, where they delivered kits with personal hygiene products, stationery, and snacks. More than 100 students received a care package.
Some new programs that were introduced this year include the Textbook Exchange Program, as well as the Job Readiness Program. President of the UTMSU, Mitra Yakubi, mentions during the meeting, "We have something for everyone, and we are not really slowing down. Together, we made so many positive changes on this campus and we don't plan on stopping anytime soon."
Regarding bursaries, the UTMSU was able to distribute over $100,000 to financially support students living on and off campus. Aiming to fight against oppressive frameworks, they also announced a new bursary titled the Racialized Community Involvement Grant, which will be available to those who are part of marginalized communities.
Financial statements for The Blind Duck, from April 2020 to 2021, reveal that the restaurant faced a serious impact to their services due to their inability to operate during the lockdown. To combat this, the restaurant introduced take-out services during the pandemic.
The Blind Duck's recovery process starts with governmental assistance of between 100 and 135 thousand dollars. With the assistance, brand new patio and lounge furniture was installed at the restaurant as part of a renovation project to improve the Student Centre. Many UTM students have taken the initiative to opt-out of UTMSU services, such as the student levy, which also justifies the decrease in revenue.
The Education for All campaign has significantly advanced since its introduction; one specific goal that was achieved was the consideration of international students. Vice President External, Maëlis Barre states, "some actions that the UTMSU has taken is hosting impactful actions and having lobbying meetings with different decision makers to push forward our demands for these campaigns."
For this initiative, the UTMSU organized an international student meeting where they addressed some challenges that these students were facing, allowing the union to identify what demands need to be met by U of T.
Lastly and most recently, the Safe Return to Campus campaign fights against in-person classes in January 2022, instead advocating for more options due to the rapid and unexpected decision. Yakubi states, "The purpose of this campaign is to ensure that that return is gradual and one that does not leave anybody behind." With several students facing challenges in transitioning back to an in-person environment, the UTMSU is calling for a safer and gradual return to the university with the consideration of all students.
With the help of students, staff, and faculty, the UTM campus can continue to achieve beneficial and impactful changes. As Yakubi says, "students united will never be defeated."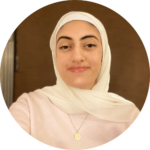 Associate Opinion Editor (Volume 48) — Haya Abu Ghosh is a fourth-year student double majoring in English and Political Science. When I am not doing any school work, I love going out with friends to coffee shops and dining in restaurants to socialize. My passions include but are not limited to reading, writing, sketching, binge-watching Netflix TV shows, taking pictures of nature and talking about politics (do not get me started talking about the Palestinian-Israeli conflict, Indigenous injustices, Uyghur Muslims in China and many more topics).