U of T graduates endure another year of virtual convocation

Students share angry comments on social media platforms demanding the university to reinstate in-person celebrations.
On November 18, graduating students at the University of Toronto Mississauga (UTM) celebrated yet another virtual convocation. Due to the ongoing Covid-19 pandemic, this year's ceremony was pre-recorded and made available to the public through YouTube.
Compared to last year's event, this ceremony was noninteractive. During the virtual celebration in 2020, graduates were able to ask questions about resources available for U of T alumni, as well as questions regarding their future plans.
This year, for many students, the announcement of another virtual ceremony bore disappointment and frustration. Several students have taken to platforms like Twitter to share their dissatisfaction, using the trending hashtag "UofTGrad21." However, the hashtag also shares some of U of T's graduating class with headshots and short descriptions.
On November 18, one account wrote, "congrats to all my fellow graduates but I think we deserve better. How can @UofT justify in person classes this semester, but not an in person convocation?"
"Another yet, another depressed student with a broken heart expecting [U of T] to finally give a convocation they deserve and ultimately feeling resent and disappointment in choosing 'Canada's #1 [university],'" tweeted another angry user.
For the fall Class of 2021, more than 5,700 students from 70 different countries received their degrees, joining the 600,000 U of T alumni across the globe.
Similar to previous years, the ceremony also incorporated remarks from U of T Chancellor, Rose Patten; President of U of T, Meric Gertler; and Chair of Governing Council at U of T, Brian Lawson.
During the virtual ceremony, Gertler made mention of the university's prestigious reputation and stated, "we have no doubt that the University of Toronto's high international standing can be attributed to generations of dedicated and very talented faculty and staff members."
"But we also understand that this reputation has been built by our alumni, a group that now includes each and every one of you. So, to the graduating class, let me say thank you," he continued.
This year's celebration left students angry and displeased over the efforts put into virtual elements as opposed to working toward an in-person commemoration.
For instance, U of T created a virtual photo booth where participants were able to upload or take a photo and paste it on top of landscape backgrounds of their choice. One of which is the Convocation Hall, located on the St. George campus.
Additionally, numerous petitions have been circulating on Change.org demanding for an in-person convocation to be organized by the university. One of which, titled "Conduct an In-Person Graduation Ceremony for the UofT Class of 2021," has 187 signatures, with a goal of 200.
Reet Singh, the creator of the petition writes, "after four years of passionate hard work, challenges, sacrifices and tens of thousands of dollars later, U of T grads deserve to walk across the stage and receive their well earned degree."
Singh goes on to say, "the Class of 2021 spent the entirety of their senior year in a pandemic and missed out on many long-awaited experiences—we demand that graduation not be one of those missed experiences."
Anaam Khan, a fourth-year student specializing in Political Science at UTM is also hoping for an in-person convocation next year.
"I believe the university should accommodate those who wish to have a virtual convocation alongside those who wish to have an in-person convocation," Khan mentions in an email interview with The Medium. "It takes a lot of effort and planning but I'm sure all graduates will appreciate it."
After more than a year of the Covid-19 outbreak, many students have faced numerous challenges, including the transition to online academia and financial barriers. For this reason, several are calling for an in-person ceremony to recognize their efforts, especially with the gradual lift of restrictions. With a vaccinated U of T population of 99 per cent, this raises the question of whether online celebrations will persist in 2022.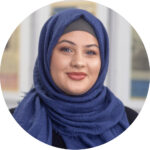 News Editor (Volume 48) | news@themedium.ca —
Going into her third year, May is currently completing a double major in Sociology and Criminology. Before becoming News Editor, May contributed The Medium for two years as a Staff Writer and Associate Features Editor. One of her biggest goals is to launch a nonprofit organization that mediates humanitarian crises around the globe and that supports children living in third-world countries. When she is not writing or studying, May spends her time working with canine coaches to provide supervised fun to four-legged furry friends at Dogtopia Applewood.