The pandemic's impact on LGBTQ2S+ communities

Resources such as OUT@UTM and the Health and Wellness Centre show support for the LGBTQ2S+ communities
With the ongoing Covid-19 pandemic, many communities and organizations have endured several unexpected challenges. One heavily affected group is the LGBTQ2s+ community. Recent studies are showing that the already vulnerable community is facing the risk of neglect with the return to an in-person lifestyle.
Initial findings from several ongoing studies and surveys have found that LGBTQ2S+ communities have been, and continue to be, disproportionally affected by the Covid-19 pandemic. With threats against mental and physical wellbeing, several are encountering financial hardships and effects of the HIV-AIDS epidemic.
In July 2021, QueerCOVIDTO, a U of T study observing the mental health of these communities, found that LGBTQ2S+ spaces were at a much higher risk because of the pandemic. Numerous spaces were put further at risk after the closures of businesses became more prominent. In the same month, it was announced that the iconic Crews & Tangos bar (508 Church St, Toronto) would be integrated into part of a condo, despite protests from the community.
For members of the LGBTQ2S+ community, support during these uncertain times is crucial. U of T, like many other universities, offer groups and clubs for students and faculty to join. Some have introduced online services to accommodate social distancing measures during the pandemic.
For instance, some groups at the University of Toronto Mississauga (UTM) are available to students through their commitment in creating a welcoming and supportive atmosphere. OUT@UTM, through the Sexual and Gender Diversity Office, offers resources and events for students. Some events are in-person, while others are virtual.
Additionally, UTM's Health and Wellness Center offers mental and physical health resources. Through insurance offered by the university, students have access to medical and dental care. The Health and Wellness Center also offers guided meditation on their Instagram Lives every day at 1 p.m., and personal counselling over the phone, ensuring students have access to mental health resources while keeping safe.
Though advocating for social distancing measures is important during these times, it is especially crucial to consider marginalized groups and their struggles.

Results from the aforementioned study's primary survey show that many members of the community feel that women, trans, and non-binary spaces are even more at risk than those for gay men. UTM's Women and Gender Equity Center offer safe spaces, awareness nights, peer support, and access to food and menstruation products for any woman who is struggling.
To broaden the understanding of how public crises like the pandemic can affect the LGBTQ2S+ communities, raising awareness is crucial. Students are able to participate in the QueerCOVIDTO survey to do so and are even eligible to be compensated $30 upon completion.
As stated in one of QueerCOVIDTO's publications, factors such as race, gender, sexuality, class, or age are not mutually exclusive entities, but rather interconnecting influences that shape our social experiences.
It has long been known that members of the LGBTQ2S+ community have been at a disproportionally higher risk for social, physical, and mental obstacles. For this reason, U of T students can seek support through the multiple mentioned resources and groups.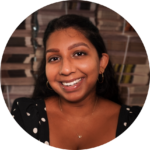 Staff Writer (Volume 48 & 49) — Hema is currently in her final year, finishing a double major in Linguistics and French Language Teaching and Learning. She previously served as a Staff Writer for Volume 48 of The Medium. Her favourite part of writing is the opportunity to research new topics, speak to new people, and make her voice heard, and she hopes that her articles can spark this interest in other students. In her spare time, you can find her in bed reading with a cup of coffee (and she's always looking for more book recommendations!).