2SLGBTQI+ acceptance, safety, and education with OUT@UTM

The Medium sits down with OUT@UTM president, Dishika Vaswani, to discuss the importance of creating safe and inclusive spaces on campus.
In the first full year of in-person learning since the pandemic, being surrounded by people on campus can feel lonely and isolating. Without the safety of online platforms or anonymity, letting yourself be known can feel like a big risk. For members of the 2SLGBTQI+ community—a group whose spaces even today are still under attack—creating supportive and safe environments for self-expression is crucial. As such, OUT@UTM, a club for 2SLGBTQI+ individuals and allies, wants to be a safe and reliable place for people to come together, celebrate each other, and discuss the history and future of the community.
OUT@UTM president, Dishika Vaswani, understands the fear of being yourself, and this was part of her motivation for reviving the club. "I wanted to create opportunities for more LGBTQ activities on campus, where people could find each other and mingle," she shares. She is now in her third year at the University of Toronto Mississauga (UTM), completing a major in English and a double minor in Math and Creative Writing, Vaswani says that her inspiration for the club came when she first arrived at UTM. "I grew up in India with a lot of homophobic people around me. I had no community where I could be myself, or have many queer friends, so that made me decide to open a club on campus for the LGBTQ community," she explains.
After doing some research, Vaswani found that OUT@UTM had already been established on campus but had been inactive for a few years. The club was handed over to her last year, and she has since led it as co-president and now as sole president. "I wanted to become the president because I think the main issue is finding people in [your community] when you're not sure if people around you are homophobic or not. How do you come out to them? How do you talk about being queer to them?" The fear that comes from this uncertainty is well-founded, and Vaswani has discussed this with other students. "It's a very real fear that people have. I've talked to a few non-binary students, and they all have the same fear: 'what if I get [discriminated against] just because I'm non-binary?'" Vaswani shares.
Her priority has been for OUT@UTM to create strong, community-oriented spaces for 2SLGBTQI+ members to mingle, find support, and explore themselves on campus, all within a safe and welcoming environment. So far, OUT@UTM has successfully established such inclusive spaces—in part through collaboration with other communities at UTM. One such community is Positive Space—U of T's program that creates safe spaces for members of the 2SLGBTQI+ community on campus. Launched in 1996 at U of T's St. George campus, the program has since extended its initiatives to all three campuses. Positive Space has worked on several awareness campaigns, one of which is the inverted triangle rainbow stickers you have likely seen around campus. These stickers indicate that the office or classroom is open and supportive of the 2SLGBTQI+ community.
The relationship between the clubs began last year when in collaboration with the Women and Gender Equity Centre, the three organizations hosted an online event to discuss with students the history of the 2SLGBTQI+ community and their hopes for the future. "Being the co-president [of OUT@UTM] last year, and being the marketing assistant for Positive Space, I had a lot of overlap in my duties, so I tried to put events together for both clubs," Vaswani adds.
Looking ahead to the winter semester, Vaswani says the club has many plans for students, like a dance night at The Blind Duck, and an off-campus group trip to the Art Gallery of Ontario or Scooter's Roller Palace. "We'd like [to host] social events for people to catch up with each other, introduce themselves, and just de-stress," she shares.
Vaswani and OUT@UTM aren't just thinking of fun activities when it comes to their future events and initiatives though. Rather, they have many goals that they hope will serve to raise awareness and make our campus a safer and healthier environment for students. Their initiatives include inviting medical professionals to speak to students about health issues that the 2SLGBTQI+ community faces and creating programs to set students up for success. In collaboration with Positive Space, they'd like to start a mentorship program for students.
"It's something that I personally wanted to start because I wish that there [had been] an upper-year student who could introduce me to more activities on campus," she explains. Mentors would be upper-year students who would help incoming and younger students find clubs and figure out what it means to be queer on campus. But Vaswani doesn't plan for the mentorship to end after first year. Instead, she wants the program to also be "For upper-year students who wish to talk to somebody who's already graduated, who can talk to them about what it's like in the real world, and what it's like to live and work as a queer person."
Vaswani has many plans for OUT@UTM, but so far she says putting them into action has had its challenges. "In one way, online was easier, because we didn't have to go through the same loopholes that we do now to hold events," she explains. Vaswani adds that holding online events meant they didn't have to wait for funding or account management, something that has been a problem this year and has meant stalling their events until next semester.
Spreading awareness about the club has also been challenging, Vaswani says. "I think there should be an easier way to market events on campus. Right now, we have to message other clubs on Instagram and hope that they tell their followers about it too," she notes. She thinks that ensuring that students know of and have access to the Student Group Directory, an online registry for clubs, could be very beneficial to students looking for communities to join.
For now, though, she wants to highlight the groups that already exist on campus. Many resources and services are already available to support students, playing a vital role in fostering an inclusive environment on campus. But we must ensure students know where to find them. This is where OUT@UTM comes in. "Us at OUT@UTM, the Women and Gender Equity Center, Positive Space, the [Sexual Education Centre], these are all places that will support students, […] the most important thing is highlighting the core community and creating resources for support," she finishes.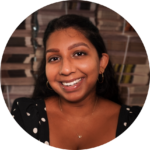 Staff Writer (Volume 48 & 49) — Hema is currently in her final year, finishing a double major in Linguistics and French Language Teaching and Learning. She previously served as a Staff Writer for Volume 48 of The Medium. Her favourite part of writing is the opportunity to research new topics, speak to new people, and make her voice heard, and she hopes that her articles can spark this interest in other students. In her spare time, you can find her in bed reading with a cup of coffee (and she's always looking for more book recommendations!).