Federal 2SLGBTQI+ Action Plan: A step towards equality

After two years of consultations and deliberation, the Canadian government releases its plan to improve inclusivity, recognize diversity, and quell 2SLGBTQI+ discrimination across Canada.
On August 28, 2022, the federal government released Canada's first Federal 2SLGBTQI+ Action Plan. The plan aimed at improving rights and freedoms for gender and sexually diverse communities in Canada, the plan has been in development since the fall of 2020, when the Government of Canada conducted surveys and organized community discussions to better grasp the difficulties faced by the 2SLGBTQI+ community.
The plan includes many steps and strategies, beginning with a more inclusive acronym. The term was changed from "LGBTQ2," which was used in 2016, to the new acronym, "2SLGBTQI+," which has been adopted by the Government of Canada moving forward. It stands for "Two-Spirit, Lesbian, Gay, Bisexual, Transgender, Queer, Intersex," and "+" to denote gender identities and sexual orientations that are not already acknowledged by the previous letters. Having the new acronym begin with "2S" was a deliberate choice to recognize "Two-Spirit people as the first 2SLGBTQI+ communities," according to the plan's official page.
The plan has a budget of "$100 million over five years." Funds will be used to implement the plan, collect data, and conduct policy research to enable informed decision-making, and develop awareness campaigns to end stigma and discrimination in Canada. The budget also includes a total of $75 million for 2SLGBTQI+ community organizations to better provide for their communities and to start new endeavours.
Initiatives of the action plan include steps to cement 2SLGBTQI+ rights nationally, such as by expanding work on bill C-4, An Act to amend the Criminal Code (conversion therapy). This bill criminalized conversion therapy and received royal assent in December of 2021. Another bill that came under the spotlight is bill C-66, Expungement of Historically Unjust Convictions Act, which created a program to annul convictions based on "historical injustices." Bill C-66 received royal assent in June 0f 2018. An example of these unfair convictions include punishments for consensual "sexual activity between persons [aged 16 or above and] of the same sex."
The Federal 2SLGBTQI+ Action Plan also highlights the government's commitment to working with the 2SLGBTQI+ community to improve inclusivity. The plan was created in collaboration with community leaders and Women and Gender Equality Canada, who intend to collect data and conduct surveys to better understand the challenges faced by the 2SLGBTQI+ community.
In a statement on the action plan, released August 2022, Prime Minister Justin Trudeau says that "We are a diverse nation enriched by the lives, experiences, and contributions of 2SLGBTQI+ people. Let us celebrate all the communities that make Canada such a diverse country, and work together to build a better future, with pride."
Many are pleased with the action plan's promises. SPECTRUM, a community-based organization in the Waterloo region, says in a statement, "This plan represents a good step in the right direction and begins to articulate the very large amounts of work that need to be done to advance rights and equality of 2SLGBTQI+ in this country." Their statement goes on to describe the clear need for this plan—news articles and blog posts about the action plan were bombarded by hateful comments, exemplifying discrimination towards the 2SLGBTQI+ community.
However, many find that the plan is still lacking. In a statement released in September 2022, the Canadian Union of Public Employees highlighted the lack of action against workplace discrimination faced by the 2SLGBTQI+ community, something that a 2015 study found was experienced by almost 30 per cent of respondents.
The Federal 2SLGBTQI+ Action Plan represents a monumental step for the Canadian government in terms of recognizing and addressing the challenges faced by the 2SLGBTQI+ community. Many members of Canadian society hope that this represents a sign of optimistic change to come.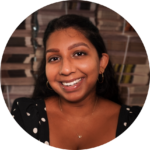 Staff Writer (Volume 48 & 49) — Hema is currently in her final year, finishing a double major in Linguistics and French Language Teaching and Learning. She previously served as a Staff Writer for Volume 48 of The Medium. Her favourite part of writing is the opportunity to research new topics, speak to new people, and make her voice heard, and she hopes that her articles can spark this interest in other students. In her spare time, you can find her in bed reading with a cup of coffee (and she's always looking for more book recommendations!).