The UTMSU introduces its plans for a winter lobby week

In their annual general meeting, the UTMSU reviewed the previous year's initiatives and introduced its lobby week event for UTM students to chime in on what needs to be improved upon.
On November 24, 2022, the University of Toronto Mississauga Students' Union (UTMSU) held its annual general meeting (AGM) in Deerfield Hall, welcoming all University of Toronto Mississauga (UTM) students to its discussion of campaigns, programming, and review of the group's initiatives.
In her presidential address, President Maëlis Barre reveled at the first in-person iteration of the UTMSU AGM since the Covid-19 pandemic began. "Students have been through a challenging time […] but then at the beginning of this year, we came back in-person," said Barre.
As he presented the UTMSU's annual report, Alistair Kirk, the UTMSU vice-president external, went over the UTMSU's initiatives for the previous year. Kirk focused on several campaigns and call-to-actions, including, but not limited to, the Education for All campaign, the Fairness for International Students campaign, consent, food accessibility, and refugee settlement in Canada.
The current housing crisis—which affects many UTM students—was also addressed. The UTMSU has been in contact with Housing Canada, the Canadian Centre for Housing Rights, and the City of Mississauga's mayor—Bonnie Crombie—to call for improved transit options and cheaper housing.
Apart from dealing with housing woes, students are also burdened by stressful tests and examinations. Mindful that the end of November is fast approaching, the UTMSU vice-president campus life, Fatima Yakubi, stated that students can expect exam de-stressors to come in the near future.
Looking beyond the fall academic semester, the UTMSU will be holding its lobby week from January 30 to February 3, 2022. Students who register for the event will find themselves working in groups to draft lobby documents for a campaign of their choice. They will also be presenting recommendations and lobby initiatives to the university administration. The campaigns include Academic Advocacy, Education for All, and Food Security.
For the Academic Advocacy campaign, the UTMSU encourages the university administration to update The Code of Behaviour on Academic Matters, which UTMSU vice-president university affairs, Suraqa Noor, noted to be "archaic" and outdated. Additionally, the UTMSU propounds that students should be shown evidence of their alleged academic misconduct. The UTMSU also hopes to set a timeframe for academic offense resolutions: two months for departmental meetings, two months for divisional meetings, and six months for tribunal meetings. Likewise, the UTMSU intends to lobby for an increase in the grade threshold for department-handled academic offense cases, from the current 10 percent to 25 per cent of final grade.
Lastly, the UTMSU calls for an extension of the Credit/No Credit (CR/NCR) request deadline to the day that students receive their final grades—which currently is either the final day of class or the date of the final test and assignment. Noor put forth that there is insufficient time for students to make "informed decisions" regarding the use of CR/NCR options. "We believe that [the extension] will give students the opportunity to take up courses that they might want to increase their horizons with," stated Noor.
The Education for All campaign focuses on the gradual and eventual elimination of tuition fees.
The Food Security campaign focuses on improving the accessibility and diversity of food options on campus. To satisfy a broader range of students' dietary preferences, the UTMSU calls for more vegan, vegetarian, halal, kosher, and gluten-free diet options, among many others. "I'm a pescatarian [an individual that does not consume any meat other than seafood], it's a real thing. We're a growing community, but we struggle [with food options]," lamented Reagan Roopnarine, the UTMSU vice-president equity.
The UTMSU also recommends updates to food quality management to ensure that UTM students have access to safely and properly prepared food. "If you've ever been to [Colman Commons], you'll know why [we are recommending this]," joked Roopnarine. She also stated that staff training is necessary to ensure that the preparation processes for various food options are done adequately. For example, tools used in preparing non-halal foods should not be interchangeably used in halal food preparation, which has special guidelines.
Finally, Roopnarine put forth that "students don't leave campus promptly at 6 p.m." The current food service hours at UTM are insufficient, leaving hard-working learners, or simply students who have night classes, without quality food.
Through participating in the lobby week, students will be able to chime in on the initiatives and recommendations put forward in these campaigns, improving the scope and thoroughness of lobby documents.
"Over the last year, students have made a really significant impact on the UTM community, but the work does not end there, and there's still so much more to achieve. […] As students, we hold so much power when we are united, […] when we come together and strive for a common goal, and I want everyone to always remember that the students united will never be defeated," shared Barre, reaffirming the importance for UTM students to stand as one and drive change.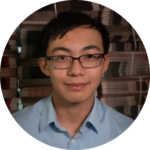 News Editor (Volume 49) | news@themedium.ca — Larry is a third-year student specializing in accounting. He finds writing to be an outstanding medium to spread messages, thus being a phenomenal way to express oneself and to have one's voice heard. Through his contributions to The Medium , Larry hopes that everyone can witness how enjoyable and invigorating writing can be, such that they too may be inspired to write out their stories. When he's not studying or writing, Larry will probably be learning Japanese or listening to music, all the while contemplating what life's next story would be.