A guide to UTM's Halloween frights and festivities

Many events to celebrate Halloween will take place at UTM, giving students the chance to experience thrills and frights alongside their friends and peers.
Amidst the red and orange hue created by the falling leaves, the festive spirit of Halloween has returned once more to the University of Toronto Mississauga (UTM). Hallo-Week, organized by the University of Toronto Mississauga Students' Union (UTMSU), includes numerous events, some of which have already taken place.
The first event, the Halloween Haunt, occurred on October 21 at Canada's Wonderland. Students could purchase discounted tickets to visit the amusement park—with bussing provided.
On October 25, the usual free breakfast saw a spooky makeover, turning into the Hallo-week Free Breakfast. In collaboration with the UTM Film Club, the UTMSU held Fright Night, where students watched Get Out, a psychological horror movie by Jordan Peele.
The Halloween Pub Night was held on October 26, from 8 p.m. to 1 a.m. at the Blind Duck Pub. Students were encouraged to wear costumes and compete in the costume competition. Featuring MC Vita Love, students celebrated the night with "spine-chilling tunes" and drinks, including alcoholic beverages for partygoers 19 and over.
Slated to take place during the week of October 29, there are two remaining events in Hallo-Week where students can experience the thrills and festivities of Halloween.
From 7 p.m. to 11 p.m. on October 30, students can visit the Student Centre for a night of frights at the Haunted House. On October 31, the Hallo-Fest will be held at the Student Centre Presentation Room from 12 p.m. to 4 p.m. Students may participate in a clubs carnival, paint pumpkins and masks, and partake in various other frightful activities.
Besides the UTMSU's Hallo-Week, there are other Halloween-related events taking place at the university. The Medium spoke to Rosa Fragomeni, VP External of the Student Association for Geography and Environment (SAGE), through email to discuss the organization's trick-or-treat event. The event started on October 23, and will conclude on October 31.

Interested students may pick up a special, themed bingo card at the SAGE office, located at DV3213 (in the William G. Davis Building). The card provides guidance on how students can visit participating professors' office hour sessions, where they will have the chance to network, learn about work-study or research opportunity program positions, or gain insight into their field of study. The backside of the card contains prompts to help students spark discussions with the professors. 
Before departing the professors' offices, students will receive candy and a sticker for their bingo card. Upon receiving three stickers, the student can enter a raffle to win prizes—a $20 Walmart gift card for first place, and a $5 Starbucks gift card for second and third places. "We look forward to seeing many more students with candy and a bingo card in hand as they walk around the GGE department in the Davis Building," wrote Fragomeni.
The day of Halloween is fast approaching, and with the numerous events organized by various UTM student groups, students may look forward to experiencing the spooky festival alongside friends and peers.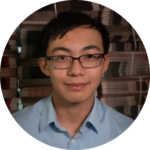 News Editor (Volume 49) | news@themedium.ca — Larry is a third-year student specializing in accounting. He finds writing to be an outstanding medium to spread messages, thus being a phenomenal way to express oneself and to have one's voice heard. Through his contributions to The Medium , Larry hopes that everyone can witness how enjoyable and invigorating writing can be, such that they too may be inspired to write out their stories. When he's not studying or writing, Larry will probably be learning Japanese or listening to music, all the while contemplating what life's next story would be.