UTM Career Centre's Get Hired Fair to assist students in kick-starting their professional adventures

As degree inflation and networking woes create obstacles for students, the UTM Career Centre holds the Get Hired Fair on September 21 to give students job opportunities.
According to a blog written by Stanford University Professor Michael W. Kirst, employers are looking for more than just grades when evaluating new employees—previous work experience is one of the most important factors that impacts the chances of getting hired.
Recognizing the importance of work experience, the University of Toronto Mississauga's (UTM) Career Centre will be hosting its Get Hired Fair, assisting students to secure part-time and full-time jobs. The event will take place at UTM's Recreation, Athletics and Wellness Centre on September 21, 2022, from 10 a.m. to 2:30 p.m. A T-Card is required for admission to ensure that opportunities are open only to U of T students and recent graduates.
With representatives from over 70 hiring organizations, the fair gives UTM students and alumni a chance to meet with recruiters from a variety of fields and industries.
Notable sponsors of the event include life sciences marketing agency Klick Health, business software developer SOTI, and insurance provider SunLife, all of which are offering employment opportunities to UTM students. Other big names attending include the Royal Bank of Canada and the Toronto Dominion Bank.
Deanna Pathak, Global Head of Talent Attraction at Klick Health, spoke with The Medium through email about the Get Hired Fair: "We're excited to partner with the University of Toronto and meet with students at the fair. We know that investing in junior talent will help us expand our business and set us up for continued success. We work in life sciences, an industry we know will be new to many students—but one that provides a diversity of exciting career pathways for junior candidates."
The importance of networking with industry professionals is becoming all the more important as the percentage of the working population with university degrees rises: "There are so many people now with good degrees, it'll be difficult for employers to select the people who actually do have the highest level of skills," says business lecturer Ray Bachan in an interview with the BBC.
This is especially concerning for students looking to join the workforce instead of continuing their education, as the path to securing employment opportunities involves building connections with recruiters.
Katarina Bursac, a Biology specialist who plans to graduate from UTM in 2023, reflects on this: "There's a big push for [Biology] students to go into master's programs, so if you want to deviate from that, you're in for a painful job hunt since every employer expects a master's degree. It's super restrictive."
Bursac hopes that the face-to-face nature of the Get Hired Fair will provide opportunities for students like her to build those much-needed connections that would allow for a successful career.
"I'm excited to be able to talk to employers in person," says Bursac. "I want companies to know who I am, and that I'm worth getting to know. Because I've got the skills and the knowledge, and I'm ready to work."
UTM itself will also be looking for potential hires at the fair, with representatives from the University of Toronto Mississauga Students' Union, the International Education Centre, the Centre for Student Engagement, and several more.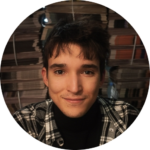 Associate News Editor (Volume 49) — Mihail graduated from UTM in April 2022 with majors in Professional Writing and Communications Technologies. He's an aspiring journalist who loves researching, interviewing, and getting to the bottom of a killer story. He started working as an Associate News Editor with The Medium in October 2022 and hopes to share many exciting stories with readers. In his free time, you can find Mihail avoiding suspicious cliffs along the Bruce Trail, pretending to read literary classics, or losing at fighting games.