Classes commence with no mask mandate at U of T

Students have mixed opinions about university administration terminating one of the few remaining protocols safeguarding public health.
In a statement on July 28, U of T announced the removal of mask requirements for students, staff, and faculty in indoor facilities on campus. This decision was made as widespread vaccination has greatly reduced the severity of Covid-19 and the transmission of the illness.
Yet, the administration's decision has garnered controversy, especially as other Ontario universities have continued enforcing masks indoor spaces, such as the University of Western Ontario and Wilfrid Laurier University.
The Medium spoke to several students about their opinions on masking.
Saarah Ali, a first-year Life Sciences student, believes that masking should be optional: "If you want to wear masks, that's totally up to you," says Ali. Wearing masks in densely trafficked areas such as crowded malls is still something Ali does. "But because campus is spaced out, I don't mind [not wearing masks]," explains Ali.
Mariliah Pimenta, a first-year English student, believes that the mandate should be enforced on campus: "In a class with 1,400 people, seats are so close together and strangers are literally breathing on you, it's kind of crazy they don't mandate masks," says Pimenta.
Likewise, Jingxuan Lin, a first-year Communication, Culture, Information & Technology student believes that wearing masks is vitally important, and they would feel safer studying at UTM if masking was required. She recalls that some of her friends were infected with Covid-19 despite wearing masks, solely because other students around them who contracted the virus did not wear masks. "One of my friends in Scarborough [has] four to five people who [tested] positive [for Covid-19], and they were wearing their mask but [other students] weren't," she explains.
There is a scientific basis for arguments advocating for the continued use of masks. After all, masks will always help reduce transmission of Covid-19 since they prevent respiratory droplets from passing through. This is especially important considering the close quarters required in lectures.
Recognizing the importance of masking, the Canadian Union of Public Employees, Local 3902 (CUPE3902)—a labour union representing lecturers, researchers, and teaching assistants at U of T—has been pushing for the reinstatement of masking mandates. As part of this call for action, the CUPE3902 is also calling upon U of T to implement "low-effort interventions," such as providing free masks at entrances and increasing mask distribution across all three campuses.
The CUPE 3902 will continue to advocate for masking on campus. While students may have mixed opinions on the importance of masking, scientific research dictates that masking is still a phenomenal method in preventing Covid-19 transmissions in environments where physical distancing is not possible.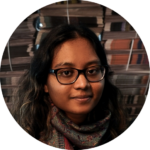 Staff Writer (Volume 49); Associate News Editor (Volume 48) — Razia Saleh is currently completing a Biology degree at UTM. She has been involved with The Medium since 2020 as a contributor and continued to write for The Medium as an Associate News Editor during Volume 48. She hopes that her experience as a writer with The Medium will help her contribute to society's efforts to provide authentic and factual journalistic media to educate her readers. She hopes to take her interest in ongoing research within the scientific field and explore ways to share it with others through this platform. In her spare time, she paints natural landscapes inspired by her travels and enjoy a few live concerts throughout the year. You can connect with her on Linkedin.