U of T and the Government of Canada educate on cyber security

Cyber Security Awareness month is an opportunity to learn how to protect yourself against cyber scams and phishing emails.
This year, the Government of Canada's "Cyber Month" campaign aims to educate Canadians on the importance of cyber security. The Communications Security Establishment of Canada launched their 2022 campaign, "Fight phishing: Ruin a cyber criminal's day!" at the beginning of the month—the focus is on protecting Canadians against phishing.
Phishing is when a cybercriminal impersonates an individual or institution in order to gain sensitive information from a user. The criminal might claim to be affiliated with a legitimate organization, however they only intend to steal the victim's usernames and passwords. Every day, an average of 3.4 billion phishing emails are sent across the world.
The Government of Canada's "Get Cyber Safe" initiative conducted a Cyber Awareness Tracking survey amongst Canadians this past March. The survey demonstrated that one in four Canadians report feeling unprepared to protect themselves against a cyber threat. In fact, 25 per cent of Canadians recall having found a virus or malware on their computer.
"Over the past year, we have seen an increase in phishing scams," says Sami Khoury, Head of the Canadian Centre for Cyber Security. "That's why this Cyber Security Awareness Month is critical to educate Canadians. […] Making sure we all know how to detect, prevent, and mitigate phishing campaigns is best practice for strengthening our cyber defences, which helps to keep us all safe."
The Covid-19 crisis saw a sharp rise in phishing scams. Cyber criminals would often impersonate pharmacies to get private information under the excuse of booking an appointment for a vaccination. Some scammers also pretended to provide fake unemployment checks to Canadians who lost their jobs during the pandemic.
The University of Toronto is committed to educating and helping the tri-campus community stay secure through their own Cyber Security Awareness campaign. In partnership with the Ministry of Public and Business Service Delivery, the itinerary aims to inform students on how to protect themselves against phishing and other digital scams in order to keep their online accounts secure.
On November 2, 2022, University of Toronto Mississauga students can join the conversation about keeping their online accounts protected over coffee with Isaac Straley, U of T's Chief Information Security Officer. This event will include a brief presentation by Straley followed by a 40-minute Q&A period. The registration deadline is October 26, 2022.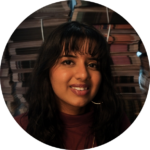 Staff Writer (Volume 49) — Malavika is in her third year, pursuing a double major in Communication, Culture, Information, and Technology and Professional Writing and Communications with a minor in Political Science. With her contributions to The Medium, she hopes to share her perspective as a young Indian immigrant. She likes research and write about interesting new topics. While procrastinating on her assignment deadlines, you can find her watching romantic Bollywood movies, true crime documentaries, or baking delicious treats.