The Brown girl experience: India vs. Canada

A reflection on the privileges of the Brown girl experience in Canada.
When I entered Canada as a young immigrant, I didn't know what to expect from the country. A differently accented language, a new school, and so many unknown experiences awaited me in this country. I have since learned so many things about this country and the people here, and have been given so much more freedom and success than I ever thought I could have achieved. After being in Canada for seven years, I feel so honoured to live here permanently and plan a future for myself and my family. I was reminded of this privilege when I visited India again. Visiting my home country over the Christmas holidays turned out to be quite the learning experience; I noticed many differences between my life as a Brown woman in Canada and the lives of women in India.
One of my first experiences as a student in the school system here was the privilege of choice. I studied in a Catholic school in India and wore a school uniform that consisted of a skirt, a button-up shirt, and a waistcoat. It was a relatively conservative outfit, but I still remember being catcalled almost every day when I crossed the road from my school to get to my bus. This was always something that deterred me from going out by myself anywhere. After coming to Canada, going to a school without a dress code was so freeing. It gave me space to express myself and explore my style. I also felt safe enough to do so here.
I experienced more freedom as soon as I turned 16, when my parents made me write the G1 driving test. I started practicing right away to get my G2. As soon as I started driving, I was able to get a job and drive myself back and forth from my classes. I felt independent and confident in myself. These privileges have now become a habit for me. But unfortunately, girls back home don't get this opportunity. Since you cannot drive until the age of 18 in India, women have to be driven or take a bus to and from places until then. When taking buses, there is usually the fear of unsafety and harassment. These weren't problems for me here but are daily issues for my friends and cousins back home.
I have a lot of independence and confidence in my abilities. Girls should be confident in themselves to stand up to the discrimination they will face daily. The privileges and freedoms found in studying whatever you want and getting from one place to another whenever you want are very important building blocks for young girls on their way to future success.
This International Women's Day, I encourage everyone—regardless of their gender—to acknowledge their privileges and successes, and to think about how we can work towards making sure many other girls all around the world get them too.
Happy International Women's Day sisters!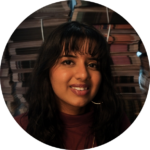 Staff Writer (Volume 49) — Malavika is in her third year, pursuing a double major in Communication, Culture, Information, and Technology and Professional Writing and Communications with a minor in Political Science. With her contributions to The Medium, she hopes to share her perspective as a young Indian immigrant. She likes research and write about interesting new topics. While procrastinating on her assignment deadlines, you can find her watching romantic Bollywood movies, true crime documentaries, or baking delicious treats.