From clichés to practical love scenes—the evolution of Bollywood romance 

How Bollywood films are evolving with contemporary stories, unique music, and a refreshed audience.
Imagine this: in the heart of the snowy mountains, a beautiful woman, clad in a red satin saree and a backless blouse, throws her arms open and calls for her lover. As if it were fate, a man in a bright white sweater and blue pants comes running through the snow right into her arms. They look into each other's eyes intensely. They hug each other. They fit together as though they are destined. Sounds cliché, right?
This style of unrealistic romance defines the plots of most Bollywood movies of the 2000s. These movies consist of a hero and heroine fighting against numerous challenges—like the differences in their families' belief systems that result in their tragic social or personal circumstances. They do all this for the sake of love. Sometimes they are successful, but other times, they aren't as lucky.
From Rahul (Shah Rukh Khan) and Anjali's (Kajol) fight for acceptance in Kabhi Khushi Kabhi Gham (2001), to the con stories of a thief couple in Bunty Aur Babli (2005), love is professed with a complex choreographed dance set to meaningful Hindi songs. These songs consist of a beautifully arranged backdrop of scenic mountaintop views, sunflower fields, or a clearwater lake. The love in these films is dramatic and remains etched in the epic history of Bollywood romance—encapsulated with songs like "Suraj Hua Madhaam," "Bairi Piya," "Main Yahaan Hoon," and "Chup Chup Ke."
The scenery of Bollywood in the 2010s has taken a turn for practicality—reflecting the rapidly Westernized Indian society. In newer films, Bollywood romance is much more local and imaginable to the public. The love between couples consists of the traditional stages in a relationship—from dating to breaking up. The plotlines reveal more realistic social taboos and daily life challenges, making them relatable to many of today's audiences. Some movie examples that effectively showcase Bollywood's new style are I Hate Luv Storys (2010), Band Baaja Baaraat (2010), Pad Man (2018), and Bareilly ki Barfi (2017). Each film captures the essence of love realistically and believably. While the hero and heroine still profess their love through music and dance, it is much less grand and low budget.
The Bollywood movies of the 2020s are taking this change a step further. The industry is opening a space for the representation of historically underrepresented communities—like the 2SLGBTQI+ community. These films also showcase the differences between inter-caste and religious marriages. While many audiences appreciate such diverse content, politically motivated critics do not feel the same. Movies like Ek Ladki Ko Dekha Toh Aisa Laga (2019), Shubh Mangal Zyada Saavdhan (2020), and Chandigarh Kare Aashiqui (2021) did not receive a lot of critical acclaim and recognition even though some of them made a fortune across box offices.

The originality of Bollywood movies lies in the use of dance and music to convey emotions. The choreographed sequences and larger-than-life music are a part of Bollywood, no matter how unrealistic it is. The stories, however, are chosen by the storytellers. This turn of the industry from clichés to practicality is proving to be popular with the latest young audiences.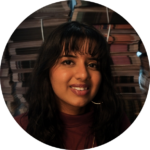 Staff Writer (Volume 49) — Malavika is in her third year, pursuing a double major in Communication, Culture, Information, and Technology and Professional Writing and Communications with a minor in Political Science. With her contributions to The Medium, she hopes to share her perspective as a young Indian immigrant. She likes research and write about interesting new topics. While procrastinating on her assignment deadlines, you can find her watching romantic Bollywood movies, true crime documentaries, or baking delicious treats.