How When Harry Met Sally… remains a timeless rom-com

While the film's plot may seem ordinary, Reiner's 1989 classic remains relevant for its depiction of heterosexual relationships.
When thinking about romantic comedies, we must discuss the beloved When Harry Met Sally… (1989). The movie's plot is the epitome of the enemies-to-friends-to-lovers trope. Director Rob Reiner and writer Nora Ephron took audiences on a journey through the twelve-year relationship of the cable-knit-sweater-wearing Harry (Billy Crystal) and America's sweetheart Sally (Meg Ryan). But why is it such an influential romantic comedy?
The film begins as Harry and Sally depart on an eighteen-hour road trip from the University of Chicago to New York City. Their personalities do not seem compatible—Harry is cynical and dry while Sally is particular and sensitive. When Harry hits on Sally, she informs him that they will just be friends—which he claims is impossible. Five years later, they have another unpleasant meeting, where Sally is surprised to hear that Harry is engaged. Fast forward another five years, Sally and Harry meet again when both of their relationships have come to an end. This is the official beginning to their friendship.
When Harry Met Sally… asks the age old, heteronormative question: can men and women be friends without sex getting in the way? Harry argues that they cannot.
This question is never answered in the film. Throughout Sally and Harry's friendship, they deny that they are in love with each other. They even attempt to set one another up with their friends Jess (Bruno Kirby) and Marie (Carrie Fisher). The set-up backfires as they find that Jess and Marie are attracted to each other—and eventually get married.
Harry and Sally have a "will they or won't they" style of tension throughout the film. This creates an enjoyable viewing experience, especially when Sally calls Harry late at night for support as she has found out that her ex, Joe (Steven Ford), is engaged. Prior to this point in the film, Sally had never shown any strong emotions. When Harry arrives at her house, he finds Sally distraught and she tells him: "All this time I've been saying that he didn't want to get married, but the truth is he didn't want to marry me. He didn't love me." Harry and Sally kiss and eventually sleep together. In the morning, Harry is clearly disturbed about the situation and leaves. They agree it was a mistake, but their friendship is ruined because they do not want to admit their true feelings for one another. But with time, and after Sally writes him off as both friend and lover, Harry professes his love for her. They get married three months later.
Thirty-four years after the release of When Harry Met Sally…, audiences are still falling in love with the titular characters. Katz's Delicatessen, a deli in New York where Harry and Sally ate in the movie, has a sign above the table where Sally publicly proved that it is easy for women to fake an orgasm. The sign says "hope you had what she had," an ode to the iconic line "I'll have what she's having," said by a bystander in the restaurant scene—who happened to be the director's own mother, Estelle Reiner. The film redefined romantic comedies and led to the kickoff of Meg Ryan's rom-com career in the 1990s.

Since the late 1980s, Hollywood has released countless romantic comedies. Still, audiences keep coming back to watch When Harry Met Sally…. The film not only utilizes the enemies to friends to lovers trope effectively, but it shows the progression of growth in its main characters. When we meet Harry and Sally, they are flawed 21-year-olds. Every new life stage brings them back together and though they remain flawed they grow with each other. In my opinion, it is not Harry Connick Jr.'s fantastic soundtrack or the cut scenes of elderly couples discussing their own love stories that make this film so charming. It is the fact that Harry and Sally are just ordinary people who realize the true potential of love.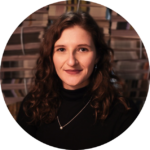 Associate Arts & Entertainment Editor (Volume 49) — Megan is majoring in English with minors in Creative Writing and History. Her love of the arts and experience in theatre and music are the backbone of Megan's work with The Medium. Aside from her academics and journalistic endeavors, Megan can be found writing original music for streaming platforms, playing her pink Fender Jazz Bass, writing spooky detective stories, longing for the mountains of B.C., and watching Disney+. Her preferred instruments of writing are her notes app and her 1970s Erika typewriter. You can connect with Megan on Instagram, Twitter, and LinkedIn.