The empowerment of voices in If We Were Birds

Theatre Erindale's first show of the season is a beautifully haunting retelling of a classic Greek tragedy that remains relevant today.
CW: Sexual abuse
From gut-wrenching violence to tear-inducing displays of female empowerment, Theatre Erindale's production of If We Were Birds took audiences on a ravishing journey. Written by Erin Shields and directed by Anita La Selva, the play was an insight into the timelessly pertinent themes of war, sexual abuse, and the mistreatment of women. With astonishing emotional builds and thoughtfully developed characters, the show left viewers pondering an often forgotten yet crucial message: the traumas of sexual misconduct leave lifelong scars.
The play was originally written by Shields as a retelling of the classic Greek tragedy Tereus, Procne, and Philomela. In Theatre Erindale's staging, this element of Greek tragedy remained as a detailed background scenery of white Ancient Greek pillars connecting audiences to the play's multi-layered world.
The story began with King Pandion (Kenneth Johnson) of Athens, as he gave his daughter Procne (Marissa Monk) away to marry the "heroic" soldier, Tereus (Jacob Dowdall). In return, Pandion received a chorus of female slaves (Alicia Salvador, Nell Senkevich, Rachel Tomasic, Zaynna Khalife, and Molly Botten). With her newfound husband and baby boy Itys (Senkevich), Procne was isolated from her dearest younger sister Philomela (Elif Coşkun). After much time away, Procne convinced Tereus to visit her sister. When Tereus encountered Philomela's beauty, he assaulted her and took advantage of her sexually, shouting that it was in his "blood" to do so. As a result, a chain of horrific incidents encapsulated the rest of the play—one that both haunted and enlightened viewers.
Although the play was in many ways uncomfortable to watch, its message was necessary, emotional, and empowering. The voices of the female chorus continue to echo in viewers' minds. The beauty of this piece resides within these silenced voices that came together from varying walks of history and spoke as one.
"The chorus is a symbiotic collective of survivors, and they do not apologize for what had happened to them," said Botten, a chorus member known as The Pregnant One. "All of the chorus' monologues derived from very real accounts of women all over the world. Shame and trauma prevent so many people from speaking out when they are victims of sexual violence, which in turn only allows [sexual violence] to continue occurring in the shadows."
Throughout the show, members of the chorus were always seen on stage. Whether they were looming in the shadows or in the spotlight, these women seemed omnipresent. Salvador, known as The Young One, said "the chorus is always listening, and offering their support by physically being there, and radiating energy to the other women." There was a collective portrayal of female unity and empowerment amid the violence—such a connection transcends the world on stage.
Every aspect of the production was driven by strong, heavy emotions. Dowdall—who played Tereus—expressed that amid the difficult subject matter, everyone "worked together to support each other," both on stage and during rehearsals. This support was identifiable. Each member of the cast carried out their character's story with respect, and there was unison in each movement, phrase, and song.
Tomasic, who portrayed The Dwindling Dignity, noted that each rehearsal started with "open discussions" about the stories told. "In doing so, we developed an immense amount of trust with one another and an understanding of what it means to be able to honour these women's stories," said Tomasic.
Unlike any other play staged in Erindale Studio Theatre, If We Were Birds experienced a unique challenge. At all times, actors remained six feet apart to maintain social distance and follow pandemic protocols. Regardless, the performance exceeded expectations.
Compared to last season's at-home virtual theatre, the challenge of social distancing on stage was well accepted. Monk, who played Procne, referred to Zoom theatre as "the most difficult experience" of her artistic endeavors.
"Performing as a variety of characters in our isolated homes with awful Wi-Fi glitches and a lack of any real human connection was discouraging to say the least," said Monk. "Having had this opportunity to perform in person has meant so much. Feeling the other person in the room, seeing them right in front of you, [and] hearing their breath […] made all the difference. Even while standing distanced from one another, there's an energy that can be felt between two people, [and it] molds itself to the present moment of a scene."

This exchange of energies is what left audiences in deep reflection after Theatre Erindale's If We Were Birds. Sexual assault continues to traumatize people all over the globe. This show gave a voice to those who are voiceless. It was a safe space, as well as a place of trust and acceptance. Each voice served as an important symbol of trauma, unison, and healing.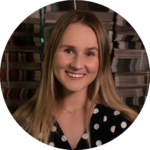 Arts & Entertainment Editor (Volume 49) | arts@themedium.ca — Julia graduated in 2022 with a major in English, and a Professional Writing and Communications and Drama double minor. She previously worked with The Medium as Theatre Erindale Correspondent for Volume 48. As the A&E Editor this year, Julia cannot wait to explore the wondrous world of arts and spark creative conversations amongst student writers. If she's not writing, working, or spending too much money on overpriced iced coffees, you can find Julia singing tunes with her guitar, bingeing Netflix shows, or going on nature walks with her doggo Benji. You can connect with Julia on LinkedIn or Instagram.