Taking a Step Back, Former Military Academy Student AJ Adeyemi's Experience as a Varsity Eagle
From military school to the University of Toronto Mississauga (UTM), third-year student AJ Adeyemi has experienced uncertainty surrounding the future of his basketball career.
Adeyemi originally intended on being a part of the management program here at UTM, but when it came time to choose programs in second year, he ended up taking a double major in Economics and CCIT. Chalking it up in the end as a blessing in disguise, Adeyemi is now a part of two programs that he enjoys: "They sort of blend together […] I feel like it's a good mix," he says.
Growing up, Adeyemi made a major switch in school systems. The Canadian-born athlete moved to Nigeria at four years old and after six years, was sent to a U.S. military academy by his parents for two terms. "It taught me how to grow up," says Adeyemi. "You're a 10-year-old kid in a country where you don't have any family. You're forced to grow up quickly."
Adeyemi also learned to ignore racist remarks during his time at the academy: "I feel like you can be racist all you want, but it doesn't affect me."
Making friends in a military school setting would have been difficult for any individual but when Adeyemi first started playing basketball seriously in the U.S., he found his place in the basketball squad. "Some of my good friends now I've met through basketball," shares Adeyemi.
These friendships originating on the court are something that Adeyemi values with the UTM basketball team. Today, all his Eagle teammates are his friends and some even housemates.
Basketball competition heated up for Adeyemi when he got to Ridley College, a private boarding high school in St. Catharines, Ontario with a focus on athletics. On the school's team, he realized that he could play along with high-level players as a teenager. Some notable athletes that he was up against were NBA players, Luguentz Dort of the Oklahoma City Thunder, and Ignas Brazdeikis of the Orlando Magic while they competed on the same high school level.
In 2019, Adeyemi had to prove himself again at UTM. He impressed his coaches with his play at a summer training camp and was on the varsity team from thereon.
After a solid beginning as a varsity player, scoring 15 points in his first game, Adeyemi went through a run of games where he was not seeing enough time on the court. Additionally, due to the amount of practice and training associated with being a varsity athlete, he began to see his grades slip. Adeyemi felt like he had to step back from basketball and focus on school, especially considering his upbringing. "I was born in a household where your education was more important than anything else," he says.
After stepping away from the sport, Adeyemi got his grades back on track, crediting this to his management of time, his adaptability, and his ability to ask the right questions. "You won't live long enough to make all the mistakes in life that you need to make to be wise, so you have to ask questions," he shares.
Although his first year of juggling school and basketball at UTM was difficult, Adeyemi kept an optimistic mind, mentioning that he was grateful for the opportunity, the teammates, and the off-court community within UTM. When asked about his future of playing for the varsity team again, Adeyemi says he hasn't decided yet. "This year UTM doesn't have a basketball team, so next year if they do have one, I might try it out one more time to see how it goes."
Adeyemi's first stint with the Varsity Men's Basketball team wasn't exactly how he envisioned but still made for a great experience for our profile athlete. We hope that the UTM basketball team will return for the 2022-2023 season and that AJ Adeyemi can get back to playing the sport he loves for the community he values.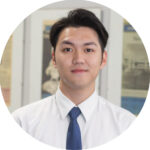 Athletics Correspondent (Volume 48) — Robert is completing a Bachelor of Commerce, specializing in accounting. He has served as a staff writer for two years. Upon completing first year Robert was unsure of which programs were available to him and what to commit his time into. Curious, he took writing courses and began writing short stories on his free time which led him to The Medium. He loves the competition that sports brings and spends his time watching or playing Basketball, Tennis, or Soccer.