The divides of our society in The Servant of Two Masters

Theatre Erindale thinks outside the box to showcase different lifestyles.
Theatre Erindale's recent production of The Servant of Two Masters by Carlo Goldoni expands on themes of alienation, popularity, and betrayal while leaving audiences laughing, gasping, and even sniffling into a tissue. Though the play is a comedy, the emotionally-driven performance comments on the loneliness that exists in many fast-paced, often two-faced, lifestyles. Amid the drama and twists that remain from the play's first performance in 1745, Theatre Erindale's adaptation of the text blends timeless tropes and connects to life beyond the stage.
Adapted and directed by Aaron Jan, Theatre Erindale's production strays away from the commedia dell'arte genre—an Italian theatrical framework that uses traditional masks and character archetypes to present a comedy. Instead, Jan's adaptation takes place on a film set and relates the text to modern-day soap operas and reality TV shows. The juicy conflicts that arise from finding love and friendships, discovering one's identity, and maneuvering through social classes are displayed in a drama-filled Keeping Up with the Kardashians and Jersey Shore type of way.
The play begins in Pantalone's (Oliver Parkins) home, where people are gathered to celebrate the engagement of his daughter Clarice (Marissa Monk) and Silvio (Austin Chaisson), the son of Dr. Lombardi (Aaron Clark). As the party flourishes, the clumsy and hilarious Truffaldino (Nicholas Simao) enters to announce the return of his master, Federigo Rasponi—a man that was pronounced dead in a duel with Florindo (Nicholas Buchanan) some time ago. To everyone's surprise, Federigo arrives at the gathering. Although, they do not know that his sister (who is also Florindo's lover), Beatrice (Zaynna Khalife), is actually disguised as Federigo.
Confused yet? Well, there is more. Truffaldino runs into Florindo as he returns home. Florindo seeks a servant for himself, and Truffaldino agrees to serve him as well as Beatrice (still disguised as Federigo). As Truffaldino attempts to live a double life and abide by the orders of two masters, he meets and falls in love with Smeraldina (Alicia Salvador), a housemaid in Pantalone's home. As the plot twists progress, Beatrice's identity is questioned by the other servants—the innkeeper Brighella (Jacob Dowdall) and the waiter/porter (Kenneth Johnson).
Amid all the commotion, viewers come to sympathize with each character in a different way, no matter their stance in the play's social order. While many conflicts find resolutions, the end of the play left me questioning the impacts of such quarrels on society.
Though a lot happens in this play, the chaos is structured in a way that seamlessly transitions scenes through sound effects and movement. As the play's setting illustrates a filming environment, it is designed in a square shape. The audience gets a sense of the work that goes on both on and off "set." Through lighting and motion, the play focuses on the strenuous lives of artists both in the public eye and behind the scenes.
"Film sets may seem like glamorous workspaces, but a great deal of manual labour is involved and on the periphery of the square, our director gave us permission to feel the weight and exhaustion of our jobs," says Johnson. "When my character is on the outside of the square, he is often leaning against a wall or slumping over on the floor. But on the inside, while on camera and while visible to the rich, he has to perform for everyone and moves more briskly, with a perfectly straight back and a smile on his face."
While this adaptation of Goldoni's text shines in a way that connects early Italian dialogue with present times, it was not easy to work with.
"One of the first conversations I had with our director before rehearsals started was about how dated this text was," says Salvador. "After all, [the original play] deals with racism as well as outdated ideas of gender roles. Due to the collaborative nature of this production, we were encouraged to bring forth what we both liked and disliked about this text."
While The Servant of Two Masters merges lifestyles into a chaotic spur of events, there is a lot to learn from this play. Each character struggles with their interpretations of society and is forced to play someone they are not. Through sound, movement, and lighting tactics, the play allows us to see and understand conflicts we may not have a resolution for.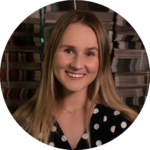 Arts & Entertainment Editor (Volume 49) | arts@themedium.ca — Julia graduated in 2022 with a major in English, and a Professional Writing and Communications and Drama double minor. She previously worked with The Medium as Theatre Erindale Correspondent for Volume 48. As the A&E Editor this year, Julia cannot wait to explore the wondrous world of arts and spark creative conversations amongst student writers. If she's not writing, working, or spending too much money on overpriced iced coffees, you can find Julia singing tunes with her guitar, bingeing Netflix shows, or going on nature walks with her doggo Benji. You can connect with Julia on LinkedIn or Instagram.