Are you stressed about what will come after graduation? Yeah, me too.

Resources at UTM can help alleviate the stress of graduation and let students create a path for their futures.
Applying for graduation this year came with a wave of conflicting emotions for me. While I was excited to add a new accomplishment to my tool belt, I was nervous about the future. For the past five years, I've been comforted by a regular schedule, controlled by courses that centre around topics I love.
While I knew it was time to move on from the University of Toronto Mississauga (UTM), I worried about being left in the dark without any resources to help guide me to a new beginning.
The UTM Career Centre provides resources for students planning their future careers and graduating. Their website contains information on possible career paths and on and off-campus experience, sorted by all the majors offered by the university. The Career Centre additionally provides both synchronous and asynchronous workshops on career planning and job hunting. Furthermore, the Centre offers counselling sessions on building your resume and cover letters, which may help graduating students gear experience toward future careers or potential further education.
While focusing on the next career-boosting steps is important for personal development, it is equally crucial that graduate students incorporate mental health regimens into their lives. UTM has a vast variety of mental health resources available. At the Health & Counselling Centre, graduate students can access appointments with psychiatric and personal counsellors to discuss any source of anxiety, including the stressful time students face during the transition from their undergraduate life to their professional life.
Although not geared directly to graduate students, the UTM Recreation, Athletics & Wellness Centre (RAWC) offers drop-in sessions that can help anxious students. Participating in sports is a big contributor to stress management, through the release of certain hormones such as endorphins. These drop-in sport sessions include weekly basketball, volleyball, and squash sessions.
Yoga and mindfulness meditation sessions are also available through the RAWC. Associated with simulating a sense of mental clarity and body awareness, yoga is often recommended as a form of stress management. While some forms of yoga can be more challenging, there are positions and variations for every skill level, making yoga accessible for all types of people.
Other support services accessible to students preparing to graduate is U of T's My Student Support Program (MySSP), an app providing resources on many topical areas including articles geared toward helping anxious students who are about to graduate. The app additionally offers live, 24/7 counseling chats with qualified counsellors.
Leaving your comfort zone for a world of unknown is always a challenge, but UTM is equipped with services and resources to help people, like me, feel at ease with our new journey.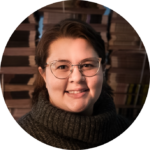 Associate Features Editor (Volume 48 & 49) — A recent graduate from UTM, Dalainey is currently working on completing her post-graduate studies in Professional Writing in Ottawa. She previously served as Staff Writer for The Medium's 47th Volume and as Associate Features Editor for Volume 48. Through her passion for languages, Dal hopes to create a fun and inviting atmosphere for readers through her contributions to the paper. When she isn't working, Dal focuses on developing digital art and writing her first novel. You can connect with Dal on her Instagram or LinkedIn.