Ryan Persadie on disrupting the conservative norms of music and queerness in Toronto

Current PhD student Ryan Persadie reflects on his research and journey to becoming a drag queen.
During his career as a private school social science teacher, Ryan Persadie, a current graduate student at U of T, faced criticism from students' parents and administration: "I was too disruptive, and I wasn't doing what I was supposed to do, which was 'be quiet and follow the rules.'" Persadie's interest in breaking down societal barriers built by colonialism was deemed too much for the Ontario private school system. So, Persadie pursued his studies with a desire to disrupt normalcy. Now, backed by his interests in radical feminist politics, queerness, race, and ethnic studies, Persadie is a PhD candidate and an educator in the Women and Gender Studies and Sexual Diversity Studies departments at U of T.
After graduating from Western University, Persadie enrolled in teachers' college at U of T's Ontario Institute for Studies in Education. "Western was a very conservative school in terms of their music program," explains Persadie, "I didn't get any training in any sort of non-classical, non-European art music, and I left my undergrad wanting more." Persadie took courses on cultural music, gender and music, and labour and music during his masters in Ethnomusicology—courses that historical musicology, which focuses on the European and Western history of music, often doesn't place much emphasis on.
Currently, his PhD explores how "queer fêtes," a specific type of Caribbean party space, become important sites of pedagogy through which queer Indo-Caribbeans understand their diaspora, form community, and disrupt normative ideas of gender, citizenship, race, sexuality, and class. At the start of his doctoral studies, at St. George, his mentor Beverly Bain, who taught in the department, was searching for a teaching assistant. "That turned into a beautiful and generative mentorship experience," explains Persadie. Through this position, he began to build relationships with students and faculty from the University of Toronto Mississauga (UTM). "That's how I got my foot in the door at UTM," he shares.
With his background in education, Persadie was always interested in teaching. "I started proposing courses and applying to be a course instructor," he explains. Now he has taught a range of courses at UTM, including WGS470: Politicizing Culture: Pop Feminism and Representation; WGS370: Gender, Sexuality, Identity; and WGS375: The Aesthetics of Sexuality. He also teaches WSTD03: Senior Seminar on Sex, Gender, and the Body at the U of T Scarborough campus.
"I focus my research on a community that I'm part of called the Indo-Caribbean community," says Persadie. The Indo-Caribbean community consists of descendants of people that were brought to the Caribbean following the abolition of the slave trade. In his research, he thinks "about the ways in which this arrival of Indo-Caribbean—and their connection to Afro-Caribbean struggle—is mediated through queer encounters." Reflecting on how sound helps us critically understand queer diaspora, queer Caribbean diaspora, and Caribbeanness is central to his research.
Persadie's Master's degree is in Ethnomusicology, which is the anthropology of music and sounds, focuses on cultures of sound, voice, as well as dance, the body, and performance. Currently, Persadie studies Soca music, a genre that comes from the Caribbean and is most associated with Carnival. "I particularly think about the ways Queer and Trans Caribbean folks interact in the diaspora," explains Persadie. He uses Toronto and New York City as his field sites.
In October 2015, Persadie tried drag for the first time. "I always joke and say, in Toronto, you're either a Halloween Queen or you're a Pride Queen because that's when people start experimenting," explains Persadie, "I'm a Halloween queen!" While experimenting with drag culture, Persadie became more involved in community organizing in Toronto, which helped his drag persona, Tifa Wine, emerge. "I was being asked to speak or host events and people would say 'why don't you come in your drag?'," recalls Persadie.
Tifa Wine is a comedian and storyteller with an "over the top" makeup style, "not meant to look like anything conventionally cisgender or normative," explains Persadie. His first drag performance was at an official "Pride 2017 Brown Drag Show" which featured artists who identified with brownness in some capacity.
"I was one of the only Indo-Caribbean drag artists we had in the city," says Persadie, "I was kind of tokenized at the time, but I didn't mind it because it was my entry point." From there, Persadie started getting bookings and making connections with people invested in radical political change and drag.
Performance has its own history in the art world. It allows for pushback against the neat, tidy definitions of classical art. "I'm in a lot of drag circles and drag is very much attached to things like burlesque," explains Persadie, "I work more with burlesque artists because that's the cultural makeup of Toronto."
Persadie has been inspired by drag artists like Nina Flowers, Sandy Devastation, and Kimchi, who played around with androgynous, ambiguous formations of gender. "I'm not interested in conventional makeup," says Persadie, "I like the transformative capacity of makeup where we can alter our body shapes and extend them in weird ways."
Coming from a conservative music background, Persadie was taught that music is rule-oriented—there's a way to play your instrument, there's a way to sound, there's a way to sing, and you can't break the rules. "There is no room to express that you disagree," says Persadie. By contrast, feminist performance art pushes conservative norms, allowing for more creativity and self-expression. "[In] a lot of feminist performances, we aren't starting from a rule book," adds Persadie.
The beauty of drag is that there is no instruction manual: "When I started doing drag, I would watch YouTube videos or go to clubs and meet other artists trying to figure out how to do those things," says Persadie. But performance has become deeply politicized. While drag seeks to break barriers, people try to apply rules like gender binaries and stereotypical feminist characteristics to police drag. Persadie, however, pushes through the sometimes harsh politicization by creating art with his body.
While in drag, Persadie refers to himself as an "aunty": "They're fierce, especially in the Caribbean context," explains Persadie, while reflecting on the culturally matriarchal nature of the "aunty" figure. He shares that although aunties don't always think of themselves as intellectual individuals, they teach others tremendously, embodying feminist pedagogues.
While he faces pushback in crafting spaces for marginalized groups through his research, Persadie leaves one tip for students in the same position: "Carve out your own politics and practices." He encourages us to find the people who are invested in our ideas and indulge ourselves as learners. "Knowledge is not supposed to be static or quiet or neat and tidy, it's supposed to be messy and hard and complicated and always shifting," he concludes.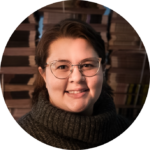 Associate Features Editor (Volume 48 & 49) — A recent graduate from UTM, Dalainey is currently working on completing her post-graduate studies in Professional Writing in Ottawa. She previously served as Staff Writer for The Medium's 47th Volume and as Associate Features Editor for Volume 48. Through her passion for languages, Dal hopes to create a fun and inviting atmosphere for readers through her contributions to the paper. When she isn't working, Dal focuses on developing digital art and writing her first novel. You can connect with Dal on her Instagram or LinkedIn.