Soraya Jovin: her athletic wins and losses
Soraya Jovin has always loved sports. She participated in almost all sports activities available at her elementary school, but her family influenced her passion for basketball. "We always watched the NBA game every weekend, and my dad and brothers used to play all the time," Jovin shares. "So that inspired my interest in the sport." Now a third-year student majoring in criminology and sociology, Jovin currently plays for the Varsity Blues women's basketball team.
Shuttling back and forth between the University of Toronto Mississauga (UTM) campus—where she has all her classes—and the St. George campus—where she trains—means Jovin commutes between two to three hours every school day.
Jovin's university basketball career began in 2022, when she played for the University of Toronto Tri-Campus League team for UTM. Reminiscing about her experiences, Jovin remembers her teammates. "They made me feel extremely supported and welcome," she says. "I felt like I had known them for years which made us play even better together."
Her favourite team memory is when they won the tournament that season. "Although the Tri-Campus competition wasn't great, being able to win with my teammates made it better," Jovin tells us. She has also refereed games for UTM intramurals. In April 2022, she got the UTM Intramurals Referee of the Year award.
Alongside her accomplishments on the court, Jovin co-founded the Bring Back UTM Varsity Eagles movement, a campaign created in protest of UTM's decision to cancel their Varsity Sports program. In November 2021, UTM's Department of Recreation, Wellness & Athletics (RAWC) put an indefinite end to the six OCAA (Ontario Colleges Athletic Association) varsity sports teams on campus to heed Covid-19 restrictions. In September 2022, the RAWC permanently cancelled UTM varsity to focus on "greater sport, fitness & wellness program options for all students, that support mental and physical health, build peer connections, and enrich student experiences," according to the department's website.
Jovin, however, says that eliminating competition does not increase inclusion in sport: "Rather, it removes opportunity for sport excellence and reduces school spirit."
Pain from the end of her basketball experience at UTM motivated Jovin and her teammates to create the Bring Back campaign. "When student-athletes coming out of the pandemic were looking forward to returning to their sport and received an email that the entire UTM OCAA program was canceled, it really hurt," she says. "UTM needs better leadership at the Recreation Athletic and Wellness Center. Students should have the opportunity to play the sport they love competitively and casually."
"My advice to any student looking to get intentional about their fitness or get involved in UTM sports is to find a community," she says. "Try going to the weight room, going to drop-ins or a fitness class, trying out for a tri-campus team, or talking to the people at the RAWC front desk about the programs UTM offers. UTM has a lot of great people, you just have to get connected to them."
Regarding her future goals, Jovin speculates that she will most likely retire after an "amazing senior season" next year.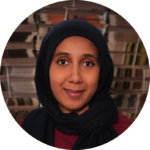 Associate Sports & Health Editor (Volume 49) — Radhia is a fourth-year student double majoring in Biology for Health Sciences and Professional Writing and Communication. She has three years of journalistic experience as a writer in Sri Lanka, and served as Associate Editor for Mindwaves (Volume 16). When she's not writing or studying for midterms, Radhia likes long walks, grey-skied rainy days, and reading children's books (her favourites are Neil Gaiman's Coraline and E.B. White's Charlotte's Web).