The benefits of participating in summer sports camps

With spring well underway and summer just around the corner, registration for Camp U of T Mississauga is now open.
From July to August, the University of Toronto Mississauga (UTM) hosts day camps on campus. Between the hours of 9:00 a.m. to 4:30 p.m., it offers "a wide range of programs for 4 [to] 16-year-olds such as sports-themed camps, leadership-themed camps, and academic-themed camps," according to the Camp UTM website.
The camps vary in delivery based on program type and age group. The Forensics Camp focuses on hands-on detective activities such as roleplay, fingerprint dusting, and daily swimming to allow for a fitness component. The Leadership Camp includes team building, job shadowing, and resume-building for 14 to 16-year-olds, while the Dance Camp gives children the chance to explore music, dance, costumes, and prop design, culminating in a performance for parents and guardians at the end of the program.
Why should you send the children in your life to summer camp? Of course, learning new activities, playing sports, and enjoying warmer weather after months of slush and snow sounds enormously appealing on their own. But summer camp is more than just a fun getaway for children or a break for their parents and guardians.
In terms of sports-focused camps, a 2013 metanalysis from the International Journal of Behavioural Nutrition and Physical Activity reported several possible health, personal, and social benefits of participating in community sports. For instance, children may form new friendships, learn teamwork skills, develop an interest in exploration, and gain emotional control.
Another 2015 study from the Journal of Creativity in Mental Health observed participants in a two-week creative arts summer camp and found they improved in behavioural areas such as frustration tolerance, assertiveness, task orientation, and peer sociability.
Camp instructors, normally university students, lead the program activities and create a safe, fun, and structured space for registrants.
According to the recent Staff National Impact Study Summary Report of the American Camp Association, working with children in a camp setting is a challenging yet rewarding experience. It can make instructors feel like they are making a difference in the world and offers them opportunities to try new things. Working in a camp can also influence future career trajectories and alter work values; perhaps you will realize that meaningful work is more important than salary or discover the importance of building relationships with co-workers.
One of the participants in the study said: "Summer camp is meaningful because the effects I have on others are very personal and tangible. I can see how I am impacting the lives of the campers, watch them grow in a positive way, and see how they improve over the course of the summer."
Details about registration, hiring, and Camp UTM programs can be found on the Camp UTM website.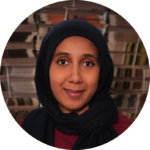 Associate Sports & Health Editor (Volume 49) — Radhia is a fourth-year student double majoring in Biology for Health Sciences and Professional Writing and Communication. She has three years of journalistic experience as a writer in Sri Lanka, and served as Associate Editor for Mindwaves (Volume 16). When she's not writing or studying for midterms, Radhia likes long walks, grey-skied rainy days, and reading children's books (her favourites are Neil Gaiman's Coraline and E.B. White's Charlotte's Web).