The Medium's Editor-in-Chief shines at TEDxUofT

A radiant overview of the speakers and performers at TEDx's latest UofT conference.
Last Sunday, February 5, 2023, the Isabel Bader Theater in Toronto came alive with laughter, awe, and applause as twelve inspirational speakers captivated the audience with their stories and insights. For their first in-person event since 2019, TEDxUofT centred their 2023 conference around the theme of "Radiance"—a shoutout to the importance of being true to oneself in the face of adversity. Amongst the speakers was Elizabeth Provost, current Editor-in-Chief of The Medium.
Emceed by U of T journalism student Emmy Curtis, the event opened with a land acknowledgement, followed by the U of T Campus Philharmonic Orchestra performing a haunting rendition of Reena Esmail's "Concerto for You." A second performance, by Canadian spoken word icon Andrea Thompson, took place after the first intermission. Thompson currently teaches a creative writing course on spoken word at the University of Toronto Mississauga (UTM) and has received numerous accolades for her writing and music. Her poetry flowed between spoken word and song with seamless grace, telling a story of her faith, the North American Black diaspora, and the Underground Railroad. In the final performance, Mahmood Magic, a magic duo made up of twins Saqib and Aaqib Mahmood, performed some classics—like Houdini's East Indian needle trick. They reminded the audience that magic connects us to our inner child-like sense of wonder.
Taylor Ball
Picture this: shoes made of clouds, a dress made of water, and a skirt made of flames. According to Ball, all this and more could be possible with digital fashion—a concept in which people will virtually dress themselves in digital outfits on platforms like Zoom or in the Metaverse. Ball, who is a currently pursuing a Master's in Sustainability Management at UTM, spoke about the dangers of fast fashion, and the exciting possibilities of digital fashion in terms of sustainability, carbon emissions, and fashion democratization.
Kamille LeClair
LeClair's talk illustrated the inequities that exist in our cities and how city councils are responsible for what our neighbourhoods look like. One of the main reasons for this disparity, she pointed out, was that people from minority groups and lower income neighbourhoods often refrain from using services like 311 or attending public consultations. LeClair, who holds a Master's in Human Geography from U of T, used her own research as a social equity consultant to propose a three-step solution: fixing participation, monitoring differences between neighbourhoods, and allocating resources equitably.
Paul Nazareth
Nazareth's talk centered on networking, but not the "weird and gross" version that most people find daunting. Instead, he shared stories of connections he made during his days at New College at U of T and expressed the importance of talking with people rather than at people. He touched on the fact that so many of us have our identities tied to our titles that we can forget to define who we are beyond the work we do. With accounts about his networking initiatives such as one he called "Dinner with 12 Strangers," Nazareth provided a powerful takeaway: stop thinking of networking and start thinking of community.
Sheldon Huang
Huang began his speech with a poem on the importance of nurturing kindness, written by artificial intelligence (AI) chatbot, ChatGPT. As a Computer Science PhD student, Huang spoke about how AI impacts human creativity and the new plagiarism challenges that the education system faces in the wake of recent technology. Using memes, poetry, jokes, and beautiful digital art generated by AI to illustrate his points, he raised several important questions about creativity, motivation, and the gift of giving and receiving kindness. "Creativity is not our last defense against automation—kindness is," Huang pointed out. "We should build more research institutions focusing on kindness, maybe even a faculty of kindness in our universities."
Dr. Monica Vermani
As a clinical psychologist, Dr. Vermani spoke about how negative thoughts can manifest as barriers in our lives. Offering insight into where they come from, why they're so strong, and how we can "clean them up," Dr. Vermani—who has recently published A Deeper Wellness, a self-help book on healing and growth—narrated inspiring stories that she had encountered in her practice, and encouraged the audience to challenge, rewrite, and reframe their negative thoughts to live their best lives.
Fahad Tariq
Tariq's talk described an elegant solution to the global problem of sustainable energy—poop. Tariq founded the energy initiative "Shift" ("just take away the 'f'") during his master's degree. Through Shift, his team has supplied several communities in developing countries like Pakistan and Uganda with biogas via anaerobic digestive systems that are powered by animal or human waste. "Reframe the way you think about waste," Tariq encouraged, pointing out that poop has the potential to be the earth's fifth energy source.
Rebecca Rosenblat-Billings
"The human race would cease to exist if not for pussies," Rosenblat-Billing told the audience when she took the stage. As a clinical sexologist, life coach, writer, and TV show host, she spoke frankly about female pleasure, "pussy power," and the stigma and shame associated with female sexuality. The highlight of her talk was the "pussy monologues," a collection of hilarious and empowering one-liners created by some of her workshop attendees who imagined what their vaginas would say if they had a voice.
Professor Baher Abdulhai
Starting his talk with a comical story about road rage, Professor Abdulhai, of U of T's Department of Civil and Mineral Engineering, read into his key question: can we use AI to eliminate traffic congestion on the freeways? Using funnels and rice, he demonstrated how bottlenecks can be avoided if we slow down. Professor Abdulhai also spoke about how using AI could prevent the need to spend billions on new infrastructure.
Michèle Newton
As a speaker, advocate, and educational consultant, Newton believes that the true solution to inclusion is "fitting out" rather than "fitting in." Newton shared personal stories on the pain of exclusion, speaking about what it was like to be the only Black child in school. She invited the audience to embrace the idea that we are all unique beings meant to "fit out together in unity."
Diana Burchell
Sharing the story of her own disability following a traumatic brain injury, PhD candidate Burchell revealed the barriers that students with disabilities face in the education system. Her talk focused on the existing biases in the Canadian French Immersion Program in Canada. Through statistics, her own research, and heartbreaking quotes from mothers, she placed importance on rectifying these inequities by spreading the word about them.
Matt Cabraja
Tokyo 2020 Summer Paralympic Games athlete Matt Cabraja—accompanied by his guide dog Goku—spoke about the gruelling difficulties he faced when dealing with failure. "Failure should be worn as a badge of honour," he told the audience, explaining how failing is a learning process and a means of success. Cabraja, who was born with no vision in his left eye and lost vision in his right eye at nine, won a silver medal and two bronze medals at the 2018 Pan Pacific Para Swimming Championships in Cairns.
Elizabeth Provost
The Medium's Editor-in-Chief Elizabeth Provost delivered an earnest and engaging talk about the power of student journalism. "Words connect us," she said, pointing out that words fuel more than just storytelling. "Words fuel movement, they fuel change, and they fuel individuals and communities to stand strong together."
Supported by vibrant illustrations and photo-collages created by The Medium's Design Editor, Manjot Pabla, Provost described her journey of getting involved with The Medium—from a screenshot of her first embarrassing email to her role as Editor-in-Chief. She placed focus on how student journalism can serve as a reminder that students are not alone. She also touched on how The Medium operates. "We understand that it might be difficult for students to approach us with their opinion, so we approach them," she explained, describing how pitches are sent out to writers each week.

One of the highlights of Provost's talk was when she touched on the history of The Medium, going back 53 years to when it was called The Erindalian. Her words reminisced on memorable and ground-breaking stories—including a 1974 murder, and the discovery of a body near campus in 1991. But what was most compelling about Provost's speech was its relatability—any student could listen to it and feel a little burst of familiarity.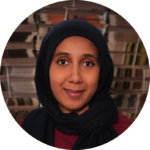 Associate Sports & Health Editor (Volume 49) — Radhia is a fourth-year student double majoring in Biology for Health Sciences and Professional Writing and Communication. She has three years of journalistic experience as a writer in Sri Lanka, and served as Associate Editor for Mindwaves (Volume 16). When she's not writing or studying for midterms, Radhia likes long walks, grey-skied rainy days, and reading children's books (her favourites are Neil Gaiman's Coraline and E.B. White's Charlotte's Web).