To date or not to date: How dating apps are still affecting young women

The number of young people on online dating platforms has increased threefold in the last few years. But for women, they remain unsafe and uncomfortable.
Some last names have been omitted to protect anonymity.
Valery Li downloaded Tinder when she moved to Toronto last year to start her studies at Seneca College. As a 19-year-old international student from Kazakhstan, Li looked to connect with people in a new city and find someone to show her around.
"It was a great ego boost for me," she said. "I never expected thousands of guys swiping right on me. And it was really easy to cut them off in case I did not like talking to them anymore."
Research shows that the 18-to-24-year-olds of the current decade are looking to online dating services three times more than young people of the earlier 2000s. In 2013, only 10 per cent of young Canadians reported using online dating sites, whereas now, 27 per cent are looking for matches online. The majority of Millennials and Gen Z-ers who use apps like Tinder, Bumble, Badoo, and eharmony say that these platforms are great ways to find dates. In fact, according to eharmony, the young people of today have better chances of finding someone online than at a bar or a club.
And yet, dating sites and apps often become a venue for harassment, especially for women under the age of 35, making many of them wish to stop dating altogether.
"I added a couple of guys on Snapchat after chatting to them," shares Li, "And the next day, I received pictures of them naked and a video of one guy masturbating. None of that was consensual."
Li believes it is also the reputation of certain apps that creates problems for women who use them. "[People on] Tinder are mostly looking for casual hookups. Bumble has a friendlier vibe. And Hinge has the most attractive men, but a lot of them are extremely fake," she explains.
More than 50 per cent of dating app users lie on their profiles and even more do so in conversation. Isabella, who has chosen to use a pseudonym to maintain her privacy, is a fourth-year student at the U of T. She found herself in a dangerous situation a few years ago because her match had lied about his intentions. Isabella was messaging a young man she had matched with for a few days when he asked her out for a drink. "For two days, we had talked about our lives and interests. And I felt spontaneous, so I was like, 'Okay, I'll be there.'"
When she got to the bar, her match was almost blackout drunk. He had brought his friends, who tried to force Isabella to drink shots with them. She quickly realized they had come to Canada from the UK for vacation, which her match did not disclose. Despite Isabella making it obvious that she wanted to leave, her date followed her outside, trying to force himself on her until she kicked him and ran to her car.
A report from Pew Research Center says that about six in 10 female users under 35 claim that their matches have sent a sexually explicit message or image wit hout asking first. 44 per cent of younger women say that someone has used offensive language in conversations with them on a dating app. 19 per cent of young women also say they have been threatened—roughly twice the percentage of men in the same age group who experience this.
Women often feel uncomfortable in conversations with men on dating apps. A study published by Jill McCartney and Susan Hellier from Robert Morris University in 2021 proves that sexually aggressive comments while chatting online can deteriorate women's self-confidence and self-esteem. They lose trust in their potential partners online and in real life.
Isabella says that the non-consensual encounters and sexual aggression that she experienced while dating online caused a rocky start to her current four-year-long relationship with her boyfriend. "The first year and a half of the relationship [was] characterized by a lot of fear and even resentment. I felt like I had to be fearful of my boyfriend even though he didn't do anything. I needed a lot of reassurance," she confesses.
The bigger problem is that dating apps are not equipped to deal with harassment cases. Dating services do not have clear rules on how to respond to reports of sexual violence that happen to their users online and offline, and they take weeks to respond to their users' messages. Even apps like Bumble—which calls itself "female-friendly"—have had many cases of stalking, sexual assault, and rape that they have failed to address.
Even with all the dangers of online dating, women keep turning to the apps, hoping to find their next healthy relationship or a consensual hookup. Nancy Jo Sales, author of American Girls: Social Media and the Secret Lives of Teenagers (2016), says this has to do with how addictive the apps are. "So addictive that many people say they use them without intending to ever meet up with someone in person. I think this is one of the greatest dangers of online dating: that the new dating technologies will eventually become more important to people than other human beings," writes Sales, in her article for The Guardian.
Sales believes that every woman who uses dating apps could benefit from deleting them from her phone forever. In the meantime, the apps keep causing stress and additional risks, especially for young women. Are the apps so useless and harmful that not a single woman has ever found a healthy relationship? Certainly not—many women have found healthy relationships and positive encounters through dating apps. But this does not mean the harm that others experience daily is any less urgent to address.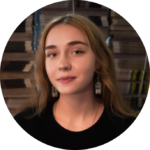 Associate Features Editor (Volume 49) — Olga is a second-year student studying Professional Writing and Communications and completing a double minor in French and Environmental Management. She joined The Medium this year as an Associate Features Editor and is excited to start connecting with many interesting people for her interviews. In her spare time, you can find her taking long mental-health walks around UTM's campus and listening to Harry Styles' latest album. Olga hopes the students of UTM will be able to see themselves in her articles and relate to the stories of her interviewees.