This season, the Leafs have consistently been one of the top five teams in the entire National Hockey League (NHL). Will their reputation as a first round exit uphold? This season is also Kyle Dubas's last season as general manager of the Leafs, according to his current contract. If the team is unsuccessful this postseason, Dubas could be on his way out. This situation, along with the looming contract expirations of some of the Leafs' best players, makes this season, more than any other season before, a true do-or-die year for the Toronto Maple Leafs.
Under pressure and with a sense of urgency, Dubas went all out in terms of trade acquisitions and deadline deals. Never before have the Leafs acquired as many players as they have now. Additions such as Ryan O'Reilly, Noel Acciari, Sam Lafferty, Jake McCabe, Erik Gustafsson, and Luke Schenn provide new strengths to the team.
Perhaps the most intriguing acquisition the Leafs have made this year is Ryan O'Reilly. O'Reilly is an all-star, captain, former defensive player-of-the-year winner, Stanley Cup champion, and playoff MVP. Acquired alongside O'Reilly was Noel Acciari, a depth player whose strong defensive play, physicality, and toughness improves these areas in the overall team.
Sam Lafferty and Jake McCabe, both acquired from the Chicago Blackhawks, are a speedy bottom six forward and a defence first, top four defencemen, respectively. Both players may be traded to Toronto for a few weeks for the benefit of its cup run.
Erik Gustafsson is a risky, offensive-first defencemen, whose unpredictability can make him the winning or losing factor on his teams. In order to acquire Gustafsson, the Leafs had to give up young defenceman Rasmus Sandin, a much-loved player who was coming into his own this year.
Luke Schenn, while he is only a depth piece, has a very interesting story. Schenn was actually drafted by the Leafs back in 2008. Schenn entered the league as a big, strong, defence-first defenceman when the league was getting smaller, faster, and more offensive. Schenn's career had hit a few road bumps along the way, until he was picked up by the Tampa Bay Lightning three years ago and went on to win back-to-back Cups in Tampa. Schenn, now full circle, returns to the Leafs at a time when his strengths as a big, strong, defence-first defenceman are exactly what the Leafs need.
As pressing and interesting as the current Leafs situation is, this week, we celebrate International Women's Day, and it's important to highlight the roles that women play in the Leafs organization: Hayley Wickenheiser, the legendary Canadian women's hockey Olympian and Gold Medal winner, has arguably one of the most successful professional women's hockey careers. She now works as a resident physician and Assistant General Manager for the Toronto Maple Leafs.
As Assistant General Manager, Wickenheiser offers her expertise, experience, and dedication to the game. She also serves as the Head of Player Development, tasked with getting the most out of players on the Leafs roster. She works closely with the players to understand their game to the best of her ability, watches game tapes to identify their strengths and weaknesses, and provides feedback to players, coaches, and management.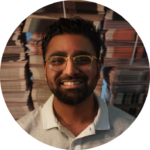 Locked on Leafs Columnist (Volume 48 & 49) — Omar is in his fourth year at UTM, working towards completing a major in CCIT and double minors in Political Science and Anthropology. Omar loves to keep up with various sports teams, his favourite being the Toronto Maple Leafs. When he isn't stressing over exams or the Leafs you can find him watching movies, looking at shoes he can only hope to afford, and trying his best to avoid parking tickets on campus.