"Peace begins with you": The UTM first-year who started a mental health initiative

In 2022, Liv Magazine honoured Alanna Sethi with a Women of Wellness Changemaker Award for her work in supporting young minds through HOPE.
Trigger Warning: This article mentions self-harm and suicide.
HOPE focuses on improving accessibility to mental health support and resources for students and local communities. The non-profit's founder is a 19-year-old psychology student from the University of Toronto Mississauga (UTM) named Alanna Sethi "There are so many barriers to mental health support globally, from financial to socio-cultural stigma to limitations in resource availability and practicality, especially in Asia. I knew that something had to be done," Sethi says.
Sethi spent her life living across the world, including in Japan, Hong Kong, Singapore, England and now Canada. Through her own experiences with mental health in the UK, she navigated through a variety of mental health supports from public, charity and private sectors. When Sethi moved back to Hong Kong in 2019, she explored mental health resources and support available—including public mental healthcare, and various mental health charities and their available services—only to realize that they were often short-term or limited, and support services were often separated to be available to either locals (Cantonese-speakers) or expats (English-speakers).
"I felt comfortable using the skills I had developed [in the UK] to take care of myself, but I recognized in friends that were struggling with panic attacks, self-harm, and suicidal thoughts and attempts, that some of them had nowhere to turn to and they needed more support than they had access to," Sethi says. "It was at this point that the direction of HOPE changed from focusing on mental health awareness to mental health support."
"HOPE offers a mixture of online and in-person programming in Hong Kong […] we recognize there may be people outside Hong Kong who would like to access these same resources we share," Sethi explains. "As much as we can, we try to replicate any in-person offerings to an online alternative for people who are not able to attend in-person."
Current HOPE workshops, such as their Mental Health Basics and Mental Health Toolbox series, focus on community education to empower individuals with the self-help tools that may help them improve their mental health experiences. Friends and family members may also join their information workshops to learn more about mental health and how to provide emotional support. These workshops and resources are often created with support from the HOPE Advisory Board, who are a team of mental health professionals (psychologists and a psychiatrist) to ensure accuracy, safety, and practicality of information shared.
Similarly, Community Building workshops gather people to form a peer support community. "This can often be a source of stress relief and a safe place people can come to talk and chat either about daily life or about their mental health if they feel comfortable," Sethi says. "Some workshops may also include guidance on how to use techniques learnt in workshops for self-care that they can apply at home, for example in our Drawing Zentangles Workshop. Other examples of our Community Building Workshops include Aerial Hammock, Board Games, Singing Bowl Sound Relaxation and Yoga."
Sethi is a certified yoga and meditation instructor who runs the new yin yoga classes at UTM's Recreation, Wellness & Athletics Centre. With a background in Integral Yoga, Sethi teaches people how they can ease their bodies, calm their minds, and live useful lives. "Practising and teaching yoga helps me to be more open to new perspectives, more compassionate and connected to the world around me, improve my emotional regulation and stability […] and has assisted with injury recovery."
Alongside a strong work ethic, Sethi accredits yoga, particularly yin yoga, with restoring her energy levels when she's feeling depleted, making it possible for her to uphold her role as a mental health advocate. "I make sure to take self-care breaks when needed and make sure that others have resources they feel comfortable using in case they need some support while I'm taking my break," Sethi speaks to the importance of setting boundaries to avoid burnout.
In 2023, Sethi received a fully-funded scholarship to study at the Yintelligence School of Yin and Functional Yoga this March, where she'll learn more about traditional Chinese medicine, meridian pathways, and western anatomical knowledge in yin yoga to not only inform her own practice, but to facilitate greater health and wellbeing learning in her classes.
A guest speaker for an upcoming session on mental wellness and mindfulness at The Cross-Cultural Community Services Association March Break Camp, Sethi advises students to keep an open mind when it comes to settling on mental health support. "Of course, it's important to listen to healthcare professionals and give new treatments a go, but it's also important to listen to your body [and trust yourself]," she says. "You might try one type of mental health treatment and it might work for others, but maybe even after months or years it doesn't feel right for you and that's okay, it's important to know there are other options available."
Open to students aged 13 to 25 across the globe, HOPE will run a three week course on creating life changes every Friday evening from 9:00 PM to 10:00 PM starting March 10, 2023. "The course will focus on introducing young people to meditation to help them achieve their goals including [academic and sport] performance improvement, mental wellbeing, community support, or learning skills to share with others," Sethi is excited to share. "This means that the course will be tailored specifically for students enrolled, to allow for meaningful experiences in meditation and group discussion." To ensure everyone can participate in group discussions, course enrollment caps at a maximum of six students.
If you feel like any piece of Sethi's story resonates with you and would like to become a HOPE service user, volunteer, or collaborator, please write to info.helpingourplanetearth@gmail.com.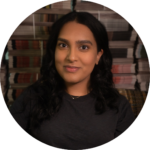 Sports & Health Editor (Volume 49)| sports@themedium.ca — Alisa is a third-year student completing a major in Professional Writing and Communication with a double minor in Political Science and Cinema Studies. She served as Editor-in-Chief of Mindwaves Volume 15 and Compass Volume 9 and was a recipient of the Harold Sonny Ladoo Book Prize for Creative Writing at UTM. Her personal essay, "In Pieces," appears in the summer 2020 issue of The Puritan. In 2022, she published her first poetry chapbook, Post-Funeral Dance, with Anstruther Press and wrote for The Newcomer as a journalist. When Alisa isn't writing, she's probably reading historical nonfiction, ugly-crying over a sad K-drama, or dreaming of places far, far away.