Farewell to school spirit

The absence of varsity sports will inhibit community-building at UTM.
In the late '80s and early '90s, ball hockey was hugely popular at the University of Toronto Mississauga (UTM). Students would attend ball hockey games, and soon enough, players developed devoted fan followings of spiritual proportions. A community was founded on a shared love for sport, holding students together with the tie of school spirit.
Even when the school's ball hockey days came to an end, UTM exuded school spirit, that is, until recently.
During the last two years, all sporting activities were cancelled at UTM due to pandemic restrictions. Emerging from this measure came the decision to permanently cancel all six Ontario Colleges Athletics Association (OCAA) varsity sports teams at UTM, including basketball and soccer teams.
The university's once palpable sense of school spirit evidently declined with great speed as backlash from student-athletes manifested in the Bring Back UTM Varsity Campaign. Organizers of the campaign claim (via Instagram) that department heads are not "fighting for a successful varsity program."
After months of unsuccessful petitioning, former Eagles varsity athletes ceased their efforts to bring back varsity sports to UTM with a statement released in March of this year via Instagram: "The Recreation Department is shifting all their resources to intramurals and tricampus although they physically and financially can sustain intramurals, tricampus, and varsity sports programs […] It is unclear if UTM will ever bring back OCAA sports. Therefore, the Bring Back [UTM] Varsity Campaign has officially ended."
What does this mean?
UTM will no longer host or participate in competitive inter-collegiate games, homecoming games, halftime shows and events, and UTM student athletes will not have access to any OCAA opportunities that would potentially propel them in their sports career.
When The Medium spoke to UTM student athletes last year in regard to the cancellation of UTM varsity teams, many said they were less motivated when it came to their studies. Their mental health dwindled as they felt that their numerous years of training to play at the varsity level had been wasted.
Not only does the cancellation affect student athletes, but also the entire campus. There is no longer a varsity Eagles team for UTM students to cheer for.
The Recreation, Athletics, and Wellness Center continues to offer sports lessons and informal drop-in sports for interested students. They can join intramurals, where student-crafted teams compete against other UTM teams, or tri-campus sports, where UTM student-athletes compete against athletes from the University of Toronto Scarborough and the University of Toronto St. George.
But these alternatives do not rile up long-term athletic development or school spirit. They still give students an opportunity to work in teams and stay active on campus, but without the enjoyment of a wider community.
A survey by the National Federation of State High School Associations found that high school students with higher school spirit were shown to perform better academically, engage more in social and civic matters, and were generally happier than their less-spirited counterparts. Despite the differences between high school and university learning, the weight of these findings still holds: school spirit levels affect students.
With the loss of UTM varsity sports and the end of a very hopeful battle for its re-emergence this fall semester, UTM students are left without a major tool for not only community-building, but also, as it turns out, personal and professional growth.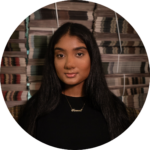 Opinion Editor (Volume 49) | opinion@themedium.ca — Kareena is a third-year student completing a double-major in Criminology and Socio-Legal Studies and Philosophy, and minoring in Forensic Science. She has previously served as the Associate Opinion Editor for Volume 48. Through her involvement and contributions with The Medium, Kareena hopes to foster a safe and trusted space, while encouraging others to let their voices and stories be heard. When Kareena is not writing or studying, you can find her watching true crime mysteries or cooking.