The benefits of personal training with the RAWC

Fitness consultant Hiro Zhou explains why students should consider individualized exercise programs.
For nearly two years since the first Covid-19 lockdown, the University of Toronto Mississauga (UTM) Recreation, Athletics, and Wellness Center (RAWC) was mostly silent. Now, the gym is in full swing, as it has been for most of the summer since pandemic restrictions were lifted. Amidst buzzing treadmills and the clanks of fitness machines, Hiro Zhou, one of the RAWC's program assistants, says that it feels great to be back.
"The gym has always been a place to recharge and relieve stress," Zhou says. "From a mental health perspective, this is the one thing that really lacked for me during the pandemic."
The complete reopening of the gym has seen the revival of several services, including the RAWC's Fitness Consult and 3×30 Personal Training program. The program offers UTM students one fitness consultation with a trainer, followed by three half hour personal training sessions at no additional cost. Each student has one free consult every semester.
"They can come in and spend half an hour with one of our fitness specialists, just to go over their goals, the things they want to achieve, and the barriers they've faced," Zhou says. The fitness specialist then books them a session with a trainer who suits their needs the most, taking into consideration timing and any personal preferences the student might have.
After this assessment, the fitness specialist takes them through a sample workout, explaining to them proper techniques, and the kinds of movements they should be doing. "Of course, if the client is a little more experienced, and they have specific things that they want to work on, the trainer can also do that for them," explains Zhou. "It's very flexible."
But why is it important for students to make use of this program? Zhou believes that students are at a point in their lives when they are most malleable. "Right now, you're like a sponge, absorbing new things, learning new things," he says. "It's the greatest time to build a good habit, to improve, and to have a more active lifestyle."
Building good habits becomes harder when you're out of school and dealing with work, relationships, and other time-consuming responsibilities.
Zhou also points out that being a student is cognitively taxing, and that regular exercise can help from both a physiological and mental standpoint. Physiologically, working out increases blood flow to the brain, bringing it the nutrients and oxygen it needs to function properly. Mentally, working out helps reduce stress by stimulating the production of endorphins (chemicals in the central nervous system that induce feelings of happiness), and gives students a quiet space to take refuge in.
Personal training sessions can also be therapeutic. "It's almost like having a mentor," says Zhou. "Within this time, you have this person who is solely focused on you, giving you a hundred percent of their attention, and their main goal is to help improve your life." Laughing, he adds, "It's almost like having a session with a mental health professional."
It's also worthwhile to note that personal training is quite expensive at most fitness clubs. This resource, however, is available at reasonable rates to students who wish to continue with one-on-one training beyond the three complimentary sessions in a state-of-the-art athletic facility. The RAWC has a swimming pool, an indoor running track, an abundance of equipment, and a high performance strengthening and conditioning center.
When asked what message he would like to give students, Zhou said it would be to not be afraid and to make the most of the opportunity they have: "Try to get into these good habits when you're young. And it can be a lot of fun! There's a lot of help, we have a new team of trainers ready to help people, and all they want to do is help other people build their bodies."
Zhou also points out that first-time gym users might find the "scary looking" people in the gym intimidating. But, as it turns out, they're really friendly. "Some of the really good friends I've made through my own undergraduate degree were in the gym," he concludes.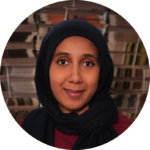 Associate Sports & Health Editor (Volume 49) — Radhia is a fourth-year student double majoring in Biology for Health Sciences and Professional Writing and Communication. She has three years of journalistic experience as a writer in Sri Lanka, and served as Associate Editor for Mindwaves (Volume 16). When she's not writing or studying for midterms, Radhia likes long walks, grey-skied rainy days, and reading children's books (her favourites are Neil Gaiman's Coraline and E.B. White's Charlotte's Web).