What's ECSpeRT? UTM's response team seeks to promote student awareness for greater campus health and safety

Knowing where AEDs are located and how to use them can help limit sudden cardiac death in school communities.
Fifth-year student Taliya Rizvi has always been passionate about medicine and healthcare. When she began her studies in the Biology specialist program at the University of Toronto Mississauga (UTM), she sought to gain medical-assisting experience through in-house opportunities that would allow her to make a positive contribution to the local community.
Erindale College Special Response Team, or ECSpeRT, is UTM's emergency response team comprised primarily of student volunteers who respond to service calls on and off campus, and at university-affiliated events such as frosh, formals, or sports games. In 2018, with the support of transition mentorship, Rizvi joined ECSpeRT as a Standard First Aider.
"Standard First Aiders are members who train in Standard First Aid with CPR (Level C) to then respond to call-for-service with MFRs (Medical First Responders) and assist them in providing patient care and data recording," she explains. "This is the entry level position in ECSpeRT that allows you to prepare and learn about the team before becoming an MFR."
After successful completion of numerous practicals and a written assessment within a 40-hour course from St. John Ambulance, Canada's top provider in advanced first aid training, enrollees graduate from being Standard First Aiders to leading on-calls as MFRs. That is, they come away from the course with a wider designation of responsibilities for various emergency health situations.
Rizvi was selected for MFR training in 2019. That same year, she went on to serve the executive ECSpeRT team as a Training Corporal, leading training sessions, presentations, and practice scenarios for Standard First Aiders and fellow MFRs.
"I experienced immense growth on the team, being promoted to a Training Sergeant and then Divisional Training Officer," she says. "Being promoted as the Divisional Training Officer and leading the training department of seven other training executives, I have had the opportunity to ensure that high-quality ongoing first aid training is provided to all members of the team and to facilitate the transition of Standard First Aiders into their roles as MFRs."
Beyond its own members, ECSpeRT also offers first aid and CPR courses to UTM students, faculty, and staff at discounted rates. Automated external defibrillator (AED) workshops on campus are free. At present, the team specifically wants to bring awareness to on-campus AEDs. Why? To save lives.
"According to the Heart and Stroke Foundation, every minute defibrillation is delayed during a cardiac arrest event, the survival of the patient drops seven to 10 per cent," says Rizvi. "The average response time for emergency medical services to UTM is seven minutes, so it is crucial that an AED is used during this time frame if it is required."
An AED analyzes heart rhythm and, if abnormal, delivers the patient an electrical shock (defibrillation) to re-establish it. As stated by the ECSpeRT website, "When ECSpeRT started in 2001, there were no AEDs at UTM." Until recently, only 11 AEDs populated the university campus, nine of which were acquired and installed by ECSpeRT members through donations and grants.
In April of 2020, the team submitted a business plan to UTM Campus Safety advocating for more AEDs on campus. "We urged the University to follow Peel Region's recommendation to have an AED within 90 seconds of any location on campus," Rizvi explains. "[As a result,] UTM purchased 67 new AEDs! These modern, publicly accessible AEDs are simple to use, and it will verbally walk you through the application, step-by-step. Do not be afraid to use one [when necessary]. Just turn it on and follow instructions."
While the case had been approved within the same month that it was presented, due to pandemic-related campus closures, it wasn't until August 2021 that these new units were installed.
Once the return to in-person classes happened in February 2022, ECSpeRT registered all of the AEDs with Peel Paramedic's Public Access Defibrillator program, so 911 dispatchers are able to tell the caller where the closest AED on campus is. The team also photographed the AEDs to create a locations map on the ESCpeRT website, and they continuously perform maintenance checks on the devices to make sure they're always ready for use.
If you're interested in learning about how to respond to medical emergencies, practicing hands-on life-saving skills, getting involved on campus as a volunteer, or meeting new people with diverse backgrounds, consider ECSpeRT membership. It's open to any UTM affiliate.
"The main qualities we look for in applicants are professionalism, dedication, passion, and the ability to work in a team as well as under pressure," Rizvi says. "ECSpeRT is a [rewarding but] large time commitment due to the responsibilities you have as a responder."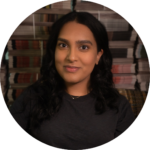 Sports & Health Editor (Volume 49)| sports@themedium.ca — Alisa is a third-year student completing a major in Professional Writing and Communication with a double minor in Political Science and Cinema Studies. She served as Editor-in-Chief of Mindwaves Volume 15 and Compass Volume 9 and was a recipient of the Harold Sonny Ladoo Book Prize for Creative Writing at UTM. Her personal essay, "In Pieces," appears in the summer 2020 issue of The Puritan. In 2022, she published her first poetry chapbook, Post-Funeral Dance, with Anstruther Press and wrote for The Newcomer as a journalist. When Alisa isn't writing, she's probably reading historical nonfiction, ugly-crying over a sad K-drama, or dreaming of places far, far away.