Weekly exercise series: Swimming

Swimming benefits the cardiovascular system, helps build muscle strength, and boosts cognitive function.
Swimming is one of the best exercises to improve cardiovascular endurance. It strengthens the lungs and the heart, while lowering blood pressure and controlling blood sugar levels to help prevent diabetes. This exercise offers a full body workout by focusing on continuous arm and leg movements. The RAWC plans to open their pool facilities back up in the 2022-2023 academic year.
There are three main swimming strokes beginners can engage in when learning how to swim: freestyle, backstroke, and breastroke. The freestyle stroke focuses on speed; it requires you to keep a straight stance in the water without your head, hips, or feet sinking.
The backstroke encompasses forward arm movements and flutter kicks. This movement will strengthen your arms and offer a workout that is more challenging to build muscle strength and endurance.
The breaststroke is a lower body workout. When performing a backstroke swimmers push their arms against the water to the side and bend their knees to their hips, mimicking a frog.
When participating in swimming lessons, it is important to have the appropriate gear to make the swimming experience more enjoyable. Swimmers should invest in a good pair of goggles and a nosepiece to prevent chlorine from getting into their eyes and nose. A cap can also be worn to prevent hair from blocking your face.
The Medium spoke to student athlete Mahaylia Datars, a second-year student studying human biology and nutrition at UofT's St. George campus. She discussed how she started with swimming and how watching competitions inspired her to join UofT's swim team.
Datars explained, "I started swimming with a swim club when I was around six years old. I started because I loved the water when I was younger and was fascinated when I would see the competitive swimmers. 12 years later I am now swimming for UofT."
She further revealed how she manages stress when preparing for competitions: "Larger competitions can have an added amount of stress as there is the pressure to perform for yourself and for your team. However, day-to-day training provides me with an outlet to express emotions I can't find the words for and has overall made me into the person I am today."
She also sheds light on how swimmers can improve their swimming techniques: "While you're swimming, pick one thing at a time to focus on and improve upon. Whether that be your head position, turns, catch, […] by picking one thing to put your attention towards, it becomes more manageable to improve your overall swimming technique [and] abilities."
Swimming is an exercise that encourages you to take on new challenges while providing an array of techniques suitable to you. It is a way for individuals to destress and channel their emotions into something that benefits their health and mental wellbeing.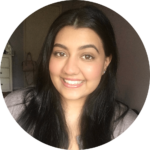 Staff Writer (Volume 48) — Anjalli graduated with a Specialization in Political Science and a minor in English. Through her contributions at The Medium, she aims to educate readers on the unique complexities of life and how we strive to overcome challenges collectively through policies and voice. In her free time she enjoys reading the latest news, meditating by her Saje diffuser, or looking at Pinterest for fashion inspiration. If you ask Anjalli what her favourite food is, she'd reply "a green dragon sushi roll!"