How to ward off seasonal depression

The cold weather can have a negative impact on your mood and lifestyle. Here are some ways to help combat this.
Do you feel fine during the summer, but negative emotions always creep up again in the winter?
Seasonal Affective Disorder (SAD) is a type of depression people normally experience when the days get shorter, and the weather gets colder. It also doesn't help that midterms and exams happen, only adding extra stress.
Some of the symptoms of SAD include feelings of sadness or serious mood switches, lack of energy, hunger for carbohydrates, feelings of irritation, hopelessness, and worthlessness, loss of interest in previous hobbies, decreased sex drive, a change in sleep schedule, and thoughts of death and suicide.
Here are some tips and resources that can help you cope with SAD.
Exercise? (or extra fries)
Don't wait until the new year to hit the gym. Due to the changing weather, it's not very tempting to go outside in the cold when you can stay cozy and warm in bed.
According to a scholarly article by Dr. Ashish Sharma, Dr. Vishal Madaan and Dr. Frederick Petty, exercise improves mental health by reducing anxiety, depression, and negative moods. It also improves self-esteem and cognitive function. Exercise has also been found to alleviate symptoms such as low self-esteem and social withdrawal. The gym is filled with people high off endorphins and creatine, so if you're comfortable, ask someone for a spot or to show you their form. Boom, instant workout buddy.
Insider Tip: The gym is always crowded with people not knowing what they're doing after New Year's as people tackle that common weight loss resolution. If you feel uncomfortable working out in a crowded space (either because of performance anxiety or Covid-19 anxiety), try hitting the gym before that 2022 rush.
Gym setting not your thing? There are so many different ways to get active including getting involved in UTM Intramurals, using the trails along campus, or even taking the stairs. Get those steps in! You'll thank yourself later.
Get Social!
Trust me, I'd rather curl up on the couch by a fire with a cup of tea and a good book as the months get colder, but many people need to socialize for their well-being.
Get people together for a game night, or even have them over to watch the new episode of a show you all enjoy.
If you're not keen on social gatherings just yet, Zoom has been our social saviour over the pandemic. There are many online games where you can play with your friends without needing to be in the same room. Some classic favourites are Among Us, Skribbl.io, Werewolf, Secret Hitler, and Kahoot.
Stick to a routine
Many people find having a daily routine helps keep them productive. Instead of sleeping until noon one day and waking up at 6 a.m. the next, it's important to settle your circadian rhythm during these months of physical darkness.
Some things to include in your routine are journaling, foods with Vitamin D or supplements, and reading for ten minutes before bed.
Routines help create healthy habits and combat burnout. Burnout also contributes to SAD as the gradual accumulation of stress leads to mental and emotional exhaustion, a decrease in interpersonal relationships, and loss of productivity at work or school.
Take these tips into consideration when you're not feeling yourself this winter, but note that these ideas won't work for everyone. If you do not currently incorporate these practices into your daily routine, don't throw yourself in headfirst. Moderation is key. Working out for a week straight is going to leave you sore and never wanting to return to the gym again, and suddenly waking up at 6 a.m. every day is going to leave you hitting snooze more.
Reach out
There is no shame in asking for help. The University of Toronto Mississauga (UTM) Health & Counselling Centre offers personal counselling, group counselling, and psychiatric care to students who are experiencing a variety of challenges!
Additionally, various free phone and text help and support lines, such as Good 2 Talk Student Helpline at 1-866-925-5454 and Connex Ontario Mental Health Helpline at 1-866-531-2600, exist for you. You can use these services for casual personal counselling, gaining solution-focused coping strategies, and other specific services found on their websites.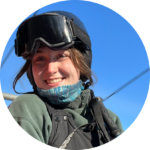 Staff Writer (Volume 48) — Lexey is in her third year as an English Specialisation and Professional Writing minor. She previously was Editor-In-Chief of Laurentian's student newspaper The Lambda and is currently the UTM Bureau Chief for The Varsity after transferring. When she's not writing articles, she's most likely studying in a cafe or hitting the slopes. You can connect with Lexey on Instagram and Twitter.