More than five million citizens seek urgent humanitarian assistance due to civil war in Ethiopia
It has been more than one year since the start of civil war in Ethiopia's northern region of Tigray. The ongoing conflict has impacted numerous communities in the country and since last year, it has been classified as a 'full-scale humanitarian crisis' by the United Nations (UN). As a result, the Tigray region is rapidly deteriorating, with flow assistance severely obstructed.
For almost five weeks, the Tigray region has been facing a dangerous shortage of aid supplies, as the war has resulted in roadblocks and the disruption of major transport routes. According to the UN, more than five million people are in "dire need of humanitarian assistance."
Additionally, the United States Agency for International Development deems the conflict as "one of the worst humanitarian crises in the world." Other regions, including Afar and Amhara, are facing severe food insecurity. As a result, several communities have resorted to eating leaves while two million Ethiopians have already fled their homes.
The civil war is between the Northern regional government, the Tigray People's Liberation Front (TPLF), and the national government of Ethiopia. The dispute is focused on who should take leadership of the country; however, it has only resulted in the famine of countless regions.
Since then, Prime Minister Abiy Ahmed's declared a six-month state of emergency after encouraging citizens to arm themselves as defence against the TPLF. Ahmed went on to say that any individual violating the emergency can be subject to three to 10 years in prison.
It has been reported that more than 60,000 Tigray citizens, including 18,000 children, are seeking refuge in Sudan by crossing the border. Last year, the UN Refugee Agency reported that 4,000 citizens were fleeing the country daily.
Due to the war and Covid-19 impacts, 7,000 schools have been damaged, leaving 1.4 million children out of school since March 2020.
Further, the UN is releasing emergency funds to treat the famine conditions several regions in Ethiopia are experiencing. So far, a total of $40 million has been released, with $25 million contributed by UN's Central Emergency Response Fund and $15 million from the Ethiopia Humanitarian Fund.
Several online petitions have been circulating the internet, demanding for the support of individuals worldwide. "Please Keep Your Hands Off Ethiopia," is one petition that can be found on Change.org with over 19,000 signatures. The petition calls for global attention and assistance in favour of the people of Tigray.
As the people of Tigray are continuing to endure detrimental impacts, it is up to the community to raise awareness about this issue. By hosting online discussions and sharing informative articles, more individuals can learn how to help Ethiopia's urgent humanitarian crisis.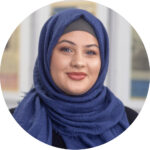 News Editor (Volume 48) | news@themedium.ca —
Going into her third year, May is currently completing a double major in Sociology and Criminology. Before becoming News Editor, May contributed The Medium for two years as a Staff Writer and Associate Features Editor. One of her biggest goals is to launch a nonprofit organization that mediates humanitarian crises around the globe and that supports children living in third-world countries. When she is not writing or studying, May spends her time working with canine coaches to provide supervised fun to four-legged furry friends at Dogtopia Applewood.