Vitamin N(ature) is just what the doctor ordered

Doctors in Canada can now provide nature prescriptions to patients.
Ontario Parks published a piece on the benefits of getting outdoors for your mental health. But what do you do when you've walked the trails at the University of Toronto Mississauga (UTM) a million times and have seen all the nature the campus has to offer?
A new medical concept has been gaining popularity over the last couple of years. According to Park Prescriptions (PaRx), nature prescriptions were named one of the top eight global wellness trends in 2019, listing side effects such as living longer, increased energy and mood, and pain reduction.
PaRx is an initiative created by the BC Parks Foundation and managed by healthcare professionals who wish to improve patients' health by connecting them to nature. PaRx recently partnered with Parks Canada to benefit even more prescribers, calling the prescription the Parks Canada Discovery Pass.
Park passes can cost upward of $100, so these free prescriptions enable anyone, despite their financial situation, to have more access to nature spots. PaRx recommends spending at least two hours a week in nature, in 20-minute intervals, for noticeable benefits.
When talking about the Parks Canada Discovery Pass, Rebecca Phillips, a licensed professional counsellor and therapist says, "I often prescribe nature for patients who struggle with chronic stress, anxiety, and depression." She notes that her patients often report improved clarity, mood, and energy after spending time in nature became part of their daily routine.
With the last couple weeks of the semester sneaking up, it's hard to not feel guilty when taking a little time for yourself. PaRx suggests tiny "green tweaks" to your routine, including switching up your commute to work or school, prioritising cardio on a trail rather than on a treadmill, or planning a lunchtime walk with one of your friends or classmates.
If none of these work, try writing it down, the way you would a doctor's appointment, so you prioritise it.
Doctors should be reminding prescribed participants to practice responsible outdoor recreation. The seven Leave No Trace principles include planning ahead and properly preparing, travelling and camping on durable surfaces, disposing of waste properly, leaving what you find, minimising campfire impacts (and being careful with fire), respecting wildlife, and being considerate of other visitors.
Leave No Trace encourages people to minimise site alterations by avoiding actions such as digging tent trenches, cutting branches from live trees, hammering nails into trees, permanently clearing an area of rocks or twigs, or removing other natural items.
Bronte Creek is a 15-minute drive from the UTM campus, currently open for day use. Overnight camping will open in April, but until then you can still hike the ravine.
Rogue National Urban Park, one of Ontario's national parks is a 45-minute drive from the UTM campus. Not only are you able to hike through the park throughout the year, but you can also grab some buddies and pitch a tent.
Other nature-based initiatives, similar to this, are being considered in countries like New Zealand, Japan, Sweden, and the United States.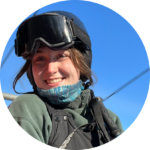 Staff Writer (Volume 48) — Lexey is in her third year as an English Specialisation and Professional Writing minor. She previously was Editor-In-Chief of Laurentian's student newspaper The Lambda and is currently the UTM Bureau Chief for The Varsity after transferring. When she's not writing articles, she's most likely studying in a cafe or hitting the slopes. You can connect with Lexey on Instagram and Twitter.