Celebrating the life and legend of Betty White

Iconic actress passed away on New Year's Eve, weeks before her monumental birthday
People Magazine jinxed Betty White's one-hundredth birthday after posting their new January cover featuring an interview with the actress' reflection "on her centennial birthday." White then passed away on December 31, 2021, five days after the magazine released the cover.
One Instagram user, @em0leeisrad, commented "Y'all gonna jinx it! Her birthday isn't until Jan 17th!!" on December 28, 2021. At the time of publishing, the comment had over 60 replies, scolding the magazine for jinxing White's birthday or calling @em0leeisrad a psychic.
Many people are wondering how death finally claimed the 99-year-old actress, but White's agent Jeff Witjas and the Los Angeles Police department confirmed that White passed away from natural causes and "there is no evidence of foul play."
To put White's impressive age in perspective, she was older than some miscellaneous household items, including ballpoint pens, sunglasses, cheeseburgers, and masking tape. A meme also claimed that sliced bread was the best thing since Betty White, as she was six years old when the bread-slicing machine was first used at a Missouri bakery in 1926.
White was best known for her iconic roles as Rose Nylund in The Golden Girls and Sue Ann Nivens in The Mary Tyler Moore Show. White's IMDb filmography also includes popular titles like Ponyo, Dr. Seuss' The Lorax, and That '70s Show. White had been acting since 1945; her earliest recorded work was a short film called Time to Kill. She won five Primetime Emmy Awards throughout her career, and The Mary Tyler Moore Show won 29 Emmy Awards.
In addition to her acting career, White was also the executive producer of her show, Betty White's Off Their Rockers, which was a 34-episode TV show that ran from 2012 to 2014.
While famous for her talents, White was also known for her progressive actions on The Betty White Show after she hired and kickstarted the career of Arthur Duncan, a Black tap dancer. At the time, in 1954, viewers complained about his skin colour. It was hard for him to keep a permanent dancing position on TV until White's offer. White's show was a gateway for Duncan as he became the first Black regular on a variety show and was later hired on The Lawrence Welk Show, where he would perform for 20 more years.
Duncan said in a documentary that he credits "White for really getting [him] started in show business." White followed, saying that "all through the South there was this whole ruckus, they were going to take the show off the air if we didn't get rid of Arthur because he was Black […] I said 'I'm sorry, but he stays. Live with it!'"
White's progressiveness set her apart from other variety shows at the time and only added to her emblematic status in Hollywood throughout the decades.

White was loved by many people in her lifetime who mourn her passing, including Ryan Reynolds. There are speculations that Reynolds' youngest daughter, Betty Reynolds, was named after the late actress as a tribute to her after working together on the set of The Proposal. After the announcement of White's death, Reynolds tweeted, "The world looks different now. She was great at defying expectations. She managed to grow very old and somehow, not old enough. We'll miss you, Betty. Now you know the secret."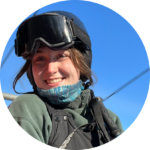 Staff Writer (Volume 48) — Lexey is in her third year as an English Specialisation and Professional Writing minor. She previously was Editor-In-Chief of Laurentian's student newspaper The Lambda and is currently the UTM Bureau Chief for The Varsity after transferring. When she's not writing articles, she's most likely studying in a cafe or hitting the slopes. You can connect with Lexey on Instagram and Twitter.