Encanto gives Disney a charming new look

Breaking barriers with the latest heroine while exploring the beauty of Colombian culture.
Spoiler warning: this article mentions scenes from Encanto.
Many Disney lovers were skeptical about the latest Disney movie Encanto and wondered if it would live up to the expectations of a successful film like Frozen. However, with eye-catching illustrations, creative magical realism, a twist on Disney villainy, impressive Colombian symbolism, and a bopping soundtrack, Encanto has exceeded expectations.
To introduce the extensive Madrigal family to viewers, Encanto opens with "The Family Madrigal," a musical number where the main character Mirabel (Stephanie Beatriz) explains to some nosy town children the variety of gifts her family possesses. Abuela Alma (María Cecilia Botero), Mirabel's grandmother, was given the "miracle"—what they call their magic—in the form of a candle after her husband was killed. With the candle's magic, Abuela's three children received the first of the Madrigals' magical abilities.
Mirabel's mother, Julieta (Angie Cepeda), can heal injuries through food, her aunt Pepa's (Carolina Gaitan) emotions control the weather, and her uncle Bruno (John Leguizamo) can see the future. Each one of the second-generation Madrigals symbolize the past, present, and future.
Mirabel's sisters and cousins are also blessed with unique gifts, which are reflected in the characters' outfits. Mirabel is the only one born into her family who did not receive a magical talent.
Even though the Madrigals are not royalty, their "miracle" and individual powers provide exalted status in their community. The Madrigals act like leaders and are the closest thing to royalty in Encanto. So, Mirabel is technically our new Disney princess.
Mirabel is also the first leading female Disney character ever to sport glasses, making her the first unofficial Disney princess with glasses. Meg Murry from A Wrinkle in Time and Sadness from Inside Out are also female characters with glasses, but none of them are Disney princesses.
With movies like Moana and Coco, Disney has shifted to a more diverse cast. Their latest addition, Encanto, is set in Colombia. The film never explicitly names a location but still gives many hints of Colombian culture. Most of the Latin voices who appear in the movie are also Colombian-born or Colombian-descent actors.
These efforts are also reflected in the film's music. Lin-Manuel Miranda, writer of musicals like Hamilton and In The Heights, was also heavily involved in Encanto's soundtrack. Miranda and other Disney creators travelled to Colombia for research. Miranda wrote eight original songs for the movie in English and Spanish, taking inspiration from the country and culture as "it's kind of the home of magical realism in literature and culture and the home of the great Gabriel Garcia Marquez," Miranda said in an interview. Writers also took inspiration from symbols that Marquez used in his famous novel, One Hundred Years of Solitude, which became a major part of the movie.
Unlike other Disney movies, there is no clear villain in Encanto but rather an unseen threat as the candle's magic begins to disappear. Disney has recently been trying to get rid of the villain as Frozen 2, Ralph Breaks the Internet, and Moana all have metaphorical threats instead or focus the plot on the protagonist's quest for self-discovery. For Encanto, the conflict that drives the story is based on familial pressures, confronting generational grief, and denial.
Even though movie theatres are closed because of Ontario's new lockdown, Disney+ released Encanto on December 24 for fans to watch as many times as they want from the comfort and safety of their homes.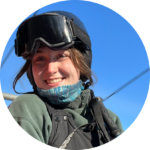 Staff Writer (Volume 48) — Lexey is in her third year as an English Specialisation and Professional Writing minor. She previously was Editor-In-Chief of Laurentian's student newspaper The Lambda and is currently the UTM Bureau Chief for The Varsity after transferring. When she's not writing articles, she's most likely studying in a cafe or hitting the slopes. You can connect with Lexey on Instagram and Twitter.