UTM opens office for Mississaugas of the Credit First Nation in pursuit of truth and reconciliation

U of T commits itself to raising awareness of Indigenous cultures, providing the Mississaugas of the Credit a foothold at UTM for ease of collaboration and research with the First Nation's Peoples.
With the goal of reconciliation in mind, on June 29, 2022, the University of Toronto Mississauga (UTM) opened the Mississaugas of the Credit First Nation (MCFN) office. The office is located on the second floor of Maanjiwe nendamowinan—which means "gathering of minds" in Ojibwe.
This office is a space for MCFN council members to conduct research, host teaching sessions, and collaborate with UTM for Indigenous-related initiatives. Their work will help promote equity and inclusion of Indigenous people in the UTM community.
"This office is a tangible step in our ongoing commitment to deepening reciprocal relationships with Indigenous communities," says UTM Vice-President and Principal Alexandra Gillespie, at the opening ceremony of the MCFN office.
The office window contains a mural titled "Kiinwin Dabaadjmowin," or "Our Story." Created by Indigenous artists Philip Cote and Tracey Anthony, the acrylic artwork displays the life of the Anishinaabe people before, during, and after colonization.
"The office planning process actually commenced back in November of 2019, a few months before the pandemic struck. UTM and the Indigenous Action Group collaborated to open the MCFN office," says Tee Duke, Director of Indigenous Initiatives at UTM's Indigenous Centre, in an email interview with The Medium.
The Indigenous Centre holds on-campus events in collaboration with the MCFN and is hopeful of the opportunities presented by the office's opening. "We have only just begun in terms of creating Indigenous spaces and I am excited for what paths lies ahead for us—our community here at UTM," says Duke.
The Indigenous Centre offers virtual programs like monthly learning circles, seminars at class lectures, and curriculum resource support. All students, staff, and faculty are welcome to participate in its programming, whether they are of Indigenous ancestry or not.
There is still a long way to go on the path of truth and reconciliation with the Indigenous community. However, the MCFN office's opening is a significant first step forward in the journey to making UTM a more inclusive space for the Indigenous Peoples.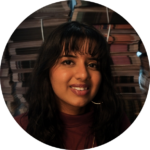 Staff Writer (Volume 49) — Malavika is in her third year, pursuing a double major in Communication, Culture, Information, and Technology and Professional Writing and Communications with a minor in Political Science. With her contributions to The Medium, she hopes to share her perspective as a young Indian immigrant. She likes research and write about interesting new topics. While procrastinating on her assignment deadlines, you can find her watching romantic Bollywood movies, true crime documentaries, or baking delicious treats.